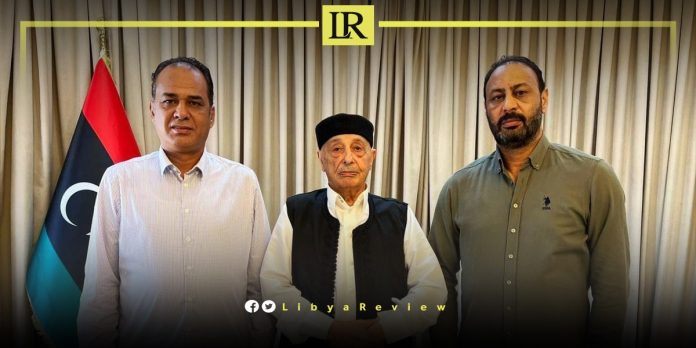 On Wednesday, the Speaker of the Libyan Parliament, Ageela Saleh asserted the necessity of forming a unified government, that encompasses the entirety of Libya.
The primary mission of this government should be to facilitate the electoral process with the support of the High National Elections Commission (HNEC).
Saleh's remarks came during his meeting with the Head of the Parliamentary Energy and Natural Resources Committee, Issa Al-Araibi, and MP Idris Abdullah.
During the meeting, the attendees touched on the latest political changes sweeping through the country. As well as the electoral laws recently adopted by the Parliament, through the collaborative efforts of the 6+6 Joint Committee.
On Monday, Fathi Al-Maryami, Saleh's media advisor, confirmed his strong determination to form a unified government.
He stressed the urgency of conducting the Presidential and Parliamentary elections in the near future. This was in response to the rumours circulating about the Speaker boycotting the council sessions.
The Libyan Parliament unanimously passed laws for the Presidential and Parliamentary elections, according to Spokesman, Abdullah Blaiheg.
The legislation was prepared by the 6+6 Joint Committee, which consists of MP's and members of the High Council of State (HCS).
Last month, HNEC signalled its readiness to put electoral laws into action, adhering to international benchmarks and practices to steer the upcoming electoral processes.
In a statement, HNEC affirmed that it stands as an "embodiment of the Libyan people's aspirations toward a future imbued with stability and affluence."
HNEC also highlighted that its operations and alignments, "do not bow to any political entities, ensuring it remains a beacon of unbiased authority amidst Libya's political spectrum."
For its part, the HCS in Libya has taken a stance against the Parliament Speaker, accusing him of failing to adhere to electoral laws.
In response to the approval of laws, Mohamed Maazeb, a member of the HCS, voiced concerns.
He stated to Sputnik News, "Parliament Speaker Ageela Saleh is attempting to form a new government without abiding by electoral laws," emphasizing that Saleh intends to retain these laws until his objectives are met.