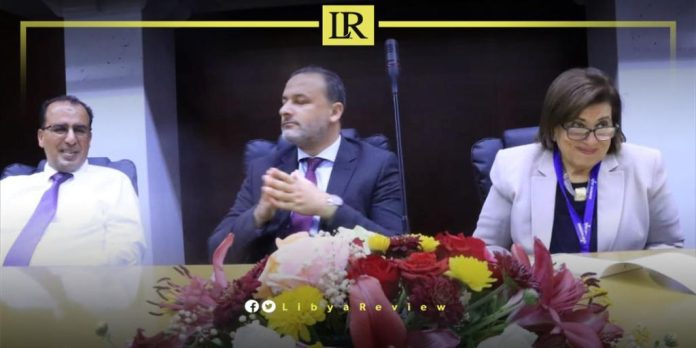 On Saturday, the Benghazi Medical College opened its doors to the international accreditation team from the World Federation for Medical Education (WFME), marking a significant stride towards earning accreditation for Libya's National Center for Higher Education Quality Assurance (Libyan medical colleges).
Dr. Hussein Al-Khumri, a member of the Supreme Committee for International Accreditation at the college, noted that the accreditation team's visit, slated to last for four days, comprised delegates from India, the United States, Egypt, and Morocco. Simultaneously, the local accreditation team consisting of 12 individuals represented the Libyan National Accreditation Center and the National Center administration.
The visit involved segmenting the participants into three teams. They embarked on a tour within the medical college, engaging in an observational journey through lectures, the library, the clinical skills laboratory, and particularly the anatomy department.
The international team was reportedly impressed with the available facilities, the level of organisation, and the students within the college. Following the tour, auditing sessions were convened with the college's accreditation team.
This initiative resonates with a broader global movement. As of the onset of 2024, a resolution has been made to accredit medical colleges across the globe via the International Center for Medical Education Accreditation. This new system paves the way for graduates to further their education abroad, denoting a substantial evolution in the global medical education sphere.
The WFME is a linchpin in global healthcare education. It plays a pivotal role in accrediting medical institutions, ensuring they adhere to international standards of education, hence fostering a universal benchmark of medical education quality.
The quest for international accreditation at the Benghazi Medical College is not merely a local or national endeavour, but a part of a larger narrative of advancing medical education in Libya, and the broader MENA region. It is a step towards fostering a conducive environment for medical education that aligns with international standards, thereby promoting a culture of excellence and continuous improvement.
The University of Benghazi has been on a quest for broader recognition, and adherence to international educational standards. The welcoming of the WFME team is a significant milestone towards achieving this aspiration. This move is not only expected to enhance the quality of medical education in Libya, but also to foster international collaborations, facilitate exchanges, and open doors for Libyan medical graduates on the global stage.
The journey towards international accreditation is a robust indicator of Libya's commitment to elevating its educational standards, especially in the medical field. It reflects a collective aspiration to integrate Libyan medical education into the global educational landscape, ensuring that graduates are well-prepared to contribute significantly to the global healthcare sector.