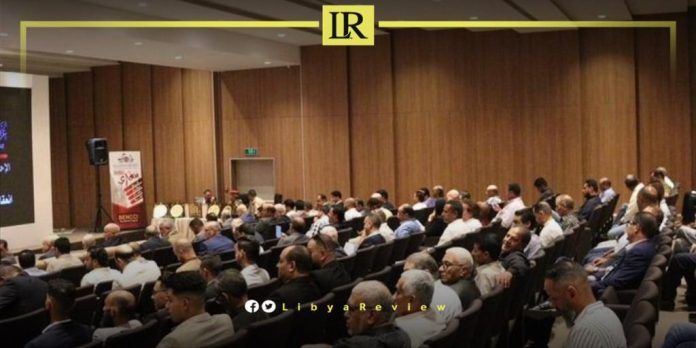 The Benghazi Chamber of Commerce, Industry, and Agriculture recently acknowledged distinguished national companies during the inaugural regular general assembly meeting, for the year 2023. The recognition comes at a pivotal time, showcasing the essential role these entities play in the ongoing urban and developmental renaissance, witnessed in the city.
During the event, several crucial entities were honoured for their significant contributions towards the progress of the region. The General Command of the Libyan National Army (LNA), the Reconstruction and Stability Committee, and the Libyan Government, represented by the Ministry of Economy and Trade and the Benghazi Municipality, were among those honoured.
Additionally, the Benghazi Security Directorate, along with private sector companies and businessmen from various economic, industrial, and service sectors, were acknowledged for their collective role in the city's developmental journey.
The gesture by the Benghazi Chamber comes at a time when Libya is navigating through crucial phases of reconstruction and stability. The initiative to honour these organisations and individuals underscores the importance of collective efforts in overcoming challenges and steering the city, and the broader region, towards a path of sustainable growth and development.
Each honoured entity has a unique role in the ongoing transformation of Benghazi:
1. The LNA General Command: Their pivotal role in maintaining security and stability, which is foundational for any form of developmental projects to thrive, is undeniable.
2. The Reconstruction and Stability Committee: Tasked with spearheading initiatives that drive reconstruction, and ensure a stable socio-economic environment.
3. The Libyan Government: Through its various arms, particularly the Ministry of Economy and Trade, shapes policies and creates a conducive environment for trade and investments.
4. Benghazi Municipality and Security Directorate: Their administrative and security functions are crucial in ensuring a well-coordinated approach towards urban development, and maintaining law and order.
5. Private Sector Companies and Businessmen: Their investment in diverse economic sectors drives job creation, innovation, and contributes significantly to the city's GDP.