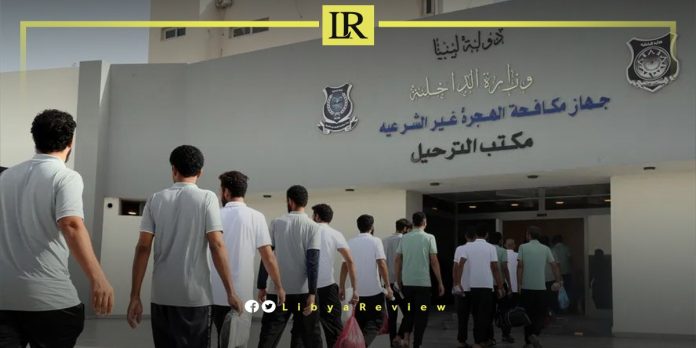 The Libyan Ministry of Interior announced the deportation of 600 Egyptians, who had entered the country illegally. They are to be sent back overland, via the border crossing at Amsaad.
Major General Mohamed Breida, Deputy Minister for Security Affairs at the Anti-Illegal Immigration Agency, said, "Today, a deportation operation is organized from the capital, Tripoli, for 600 Egyptian citizens who entered illegally."
Hundreds of young men were seen dressed in grey or white shirts and black trousers, responding to the officer's call, before each received a transit permit. Around ten buses waited in the parking lot to take them to the Sallum border crossing, at the eastern extremity of Libya, according to AFP.
Libya has long been a transit hub for migrants from Africa and the Middle East seeking to reach Europe. The country's extensive coastline along the Mediterranean makes it a popular departure point for people attempting the perilous journey.
The political instability following the fall of Muammar Gaddafi in 2011 has exacerbated the issue of illegal immigration. The subsequent lack of a unified government has made it difficult to control the borders effectively.
Migrants in Libya often face harsh conditions, including detention, abuse, and exploitation. International organizations have repeatedly expressed concern over the treatment of migrants in Libya.
The border between Egypt and Libya has been a focal point for controlling illegal immigration. Both countries have taken steps to secure the border, and manage migrant flows.
Human rights organizations monitor deportations, to ensure they comply with international standards. These organizations advocate for the rights of migrants and against any form of mistreatment.
Egypt receives a significant number of returnees, which has implications for its economy and society.
Combating illegal immigration often requires regional and international collaboration. Agreements and shared initiatives are crucial for addressing this multifaceted issue.
Libya's and Egypt's ongoing efforts to manage migration reflect broader regional challenges. A balanced approach is needed, one that respects individual rights, while addressing security concerns.
The deportation of 600 Egyptian nationals from Libya underscores the persistent challenge of illegal immigration in the region. It highlights the necessity for comprehensive migration policies that align with international human rights standards, and address the root causes of irregular migration. The cooperation between Libya and Egypt is a step towards managing the situation, but it also calls attention to the need for sustainable solutions, that go beyond border control and deportation.