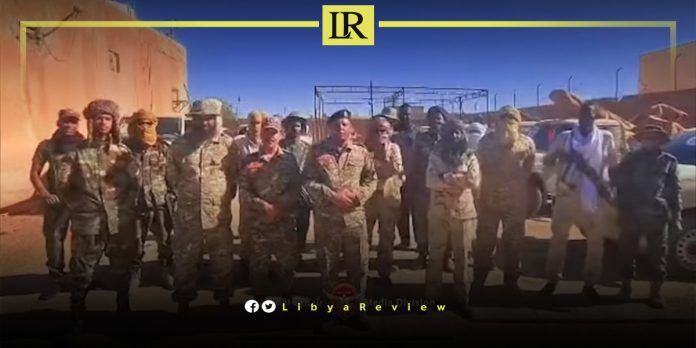 The 128th Reinforced Brigade of the Libyan National Army (LNA) is continuing its military patrols in southwestern Libya, focusing on the border areas to ensure security.
Units from the 128th Brigade, specifically Battalion 680, stationed in the city of Ghadames, conducted these patrols. The units combed the region, passing through various checkpoints and border crossings, including Gate 45, Gate Anai, and the Talmessin crossing.
The operation is in line with the directives of the LNA's Commander-in-Chief, Field Marshal Khalifa Haftar, to enhance security and stability in cities and areas located in southern Libya, while also securing the border region.
On Monday, Haftar held a strategic meeting with the leaders of the Tuareg tribes in Benghazi, affirming a unified stance on security and stability in the region.
In a statement, the LNA reported the tribal delegates "expressed appreciation for the LNA's diligent efforts in maintaining security across southern cities, and tackling the challenges of criminal operations and smuggling activities along Libya's vast border zones."
Haftar underscored the vital role that Libyan tribes play in the security of the southern desert and border areas, lauding their support of military operations to protect Libyan sovereignty.
The meeting comes in the wake of General Haftar's interaction with the social coordinator for the Awlad Suleiman tribe, Sheikh Zidan Al-Zadma, at the LNA headquarters.
Haftar reiterated the importance of social components in the country, and praised the contributions of the Awlad Suleiman, along with other tribes in the southern region, towards restoring stability and fostering national reconciliation among Libyans.
This meeting underscores the LNA's strategy to integrate traditional tribal structures into the broader framework of national security and reconciliation efforts, aiming to unify the war-torn country.
Haftar convened a meeting, on Saturday, with the Chiefs of Staff and Directors of various departments under the General Command to assess the operational progress of military units across different specialties, both in urban areas and border regions.