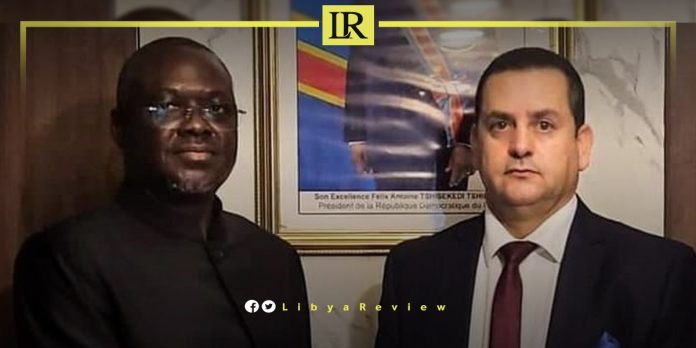 The Foreign Minister of the Libyan Parliament-designated government, Abdel-Hadi Al-Hwaij held a meeting with Crispin Mbindule Vano, the Congolese Deputy Foreign Minister.
This diplomatic encounter was held in Kinshasa, with a primary focus on enhancing diplomatic relations and exploring opportunities for collaboration.
During their discussion, both parties addressed the establishment of a Congolese Consulate in Benghazi.
The meeting emphasised the importance of fostering strong bilateral relations, to serve the best interests of both countries and their two peoples .
Furthermore, they underscored the significance of collective efforts to tackle not only the challenges within Libya, but also those prevalent across Africa.
Both Libya and Congo expressed the urgency of altering the prevailing perception of Africa, shifting it from a continent that requires external assistance to one that actively engages in productive partnerships.
In addition, the diplomats discussed the critical significance of south-south cooperation, and the need to develop innovative strategies to address migration-related issues effectively.
The meeting also discussed the pivotal role that Africa must play in surmounting its challenges, through fostering unity among its people and leveraging the strengths of all African nations.
They stressed that, "democracy should not be imposed externally but should, above all, respect the sovereign will of African nations in their selection of leaders."
Earlier, the Speaker of the Libyan Parliament, Ageela Saleh affirmed the pivotal role that the African Union should play in resolving the ongoing crisis.
The Libyan Parliament-designated government stated that the discussion between Saleh and Abdul Majeed revolved around ways to resolve the crisis, and the role of African countries and the AU in supporting and establishing stability.
The meeting particularly focused on the national reconciliation program, overseen by the African Union. Saleh underscored the necessity for the African Union to play a constructive role in resolving the Libyan crisis.
Libya has been marked by political instability and violent conflict since the fall of Colonel Muammar Gaddafi's regime in 2011. In the aftermath of the Arab Spring, Libya fell into a prolonged civil war, resulting in divided authorities, economic collapse, and a humanitarian crisis.