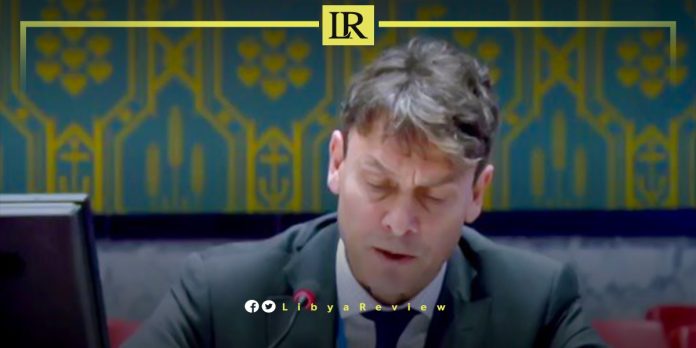 In a statement delivered by a representative of the United Kingdom's permanent mission to the United Nations, during a closed-door meeting of the UN Security Council dedicated to the semi-annual briefing by the ICC Prosecutor, Karim Khan, the UK reiterated its commitment to supporting "ongoing investigations and the progress made in implementing the Prosecutor's new strategy, and the potential for his ability to map out a roadmap for the completion of activities in accordance with Resolution 1970."
The British diplomat affirmed the UK's dedication to working with the ICC regarding the situation in Libya. As well as urging the Libyan authorities and the United Nations Support Mission in Libya (UNSMIL) to build upon the progress made thus far, to ensure justice for the Libyan people, particularly the victims of violations witnessed in the country from 2014 to 2018.
The British diplomat welcomed the ICC Prosecutor's announcement regarding progress made concerning the rights of migrants, and the efforts undertaken in working with the Libyan authorities to continue investigations and hold those responsible for violations accountable.
They called on the Libyan authorities to cooperate with the ICC, including facilitating visa issuance for Court members, providing relevant documents, and cooperating in the execution of arrest and surrender warrants issued by the Office of the Prosecutor.
The United Kingdom's support for the investigations in Libya reflects its commitment to upholding international justice, and ensuring accountability for grave crimes. The pursuit of justice for the Libyan people is of paramount importance, and cooperation with the ICC is seen as an essential step in achieving this goal.
Libya has undergone significant challenges and human rights violations in recent years, and the international community's support for accountability and justice is crucial to fostering stability, reconciliation, and the rule of law in the country.
By actively working with the ICC and urging cooperation from all relevant parties, including the Libyan authorities, the United Kingdom aims to contribute to the process of achieving justice and ensuring that those responsible for crimes are held accountable, thus fostering a path towards a more peaceful and just Libya.