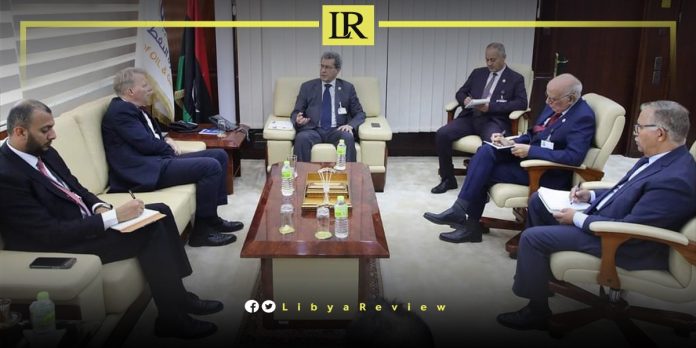 Germany has signalled its commitment to assist in revitalizing Libya's industrial sector. This was discussed between Libya's Minister of Oil and Gas, Mohamed Aoun, and Sven Kühn von Burgsdorff, Germany's Deputy Ambassador to Libya, highlighting a new phase of economic cooperation.
In this strategic meeting, Germany voiced its intention to help revive some of Libya's non-operational factories, providing a stable backdrop for companies eager to contribute to revival efforts. Berlin's involvement, particularly in the realm of oil and gas, is poised to aid Libya in becoming a more robust energy supplier to Europe.
Aoun, reflecting on the German legacy in Libya's investment landscape, remarked on the early ventures of Wintershall, which embarked on oil production in Libya in the 1970's after significant hydrocarbon discoveries in the Sirte Basin.
Moreover, Aoun spoke of Libya's diverse wealth beyond oil and gas, hinting at the untapped potential in regions anticipated to harbour extensive oil and gas reserves, both onshore and offshore. He underscored Libya's global ranking as the fifth-largest holder of shale oil and gas reserves, according to a 2015 study by the US Energy Information Administration.
He noted that investing in these resources could substantially increase Libya's oil and gas production, contingent on the nation's return to political and security stability. This is crucial for attracting international companies back to Libya.
The minister also highlighted ongoing collaborations between the Ministry of Oil and Gas and the Ministry of Industry and Minerals, to localize the production of oil-related materials and equipment, a venture that presents an open invitation to German firms to join the burgeoning economic activities within this sector.
Libya's manufacturing and industrial sectors have faced numerous challenges and interruptions, due to the country's political and security situation since the 2011 uprising that toppled Muammar Gaddafi's regime.
The ensuing instability led to a divided country, with competing governments and militias vying for control over territories and resources, including the rich oil and gas reserves. Despite holding the largest proven oil reserves in Africa, Libya's production and industrial activities have been inconsistent.
Efforts have been made to re-establish stability and rebuild the economy, with international stakeholders, including Germany, showing interest in supporting Libya's recovery.
Germany's current move aligns with broader international efforts to aid Libya in regaining its footing as a key energy player, and restoring its industrial capabilities for economic growth and stability.