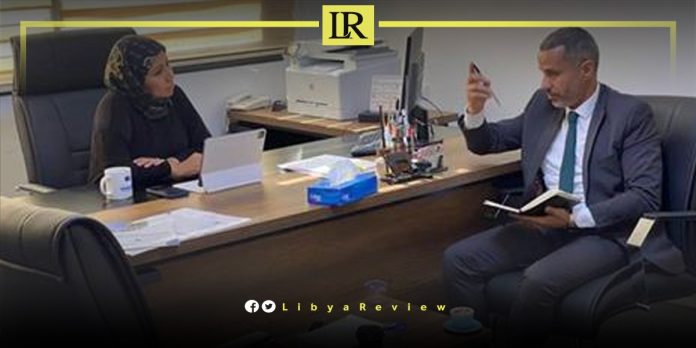 The Islamic Development Bank (IDB) has proposed to contribute to the development of infrastructure in Libyan municipalities, enhancing the services provided by these municipalities. This proposal was presented during a meeting held on Monday between Osama Mansour, the Bank's representative in Libya, and Shadia Aribi, the Director of the International Cooperation Office at the Ministry of Local Government.
According to a statement, Mansour provided a brief overview of the Bank's activities in local development, specifically in the services sector of municipalities. He emphasized the importance of developing cooperation with the Ministry of Local Government, and enhancing opportunities for dialogue and cooperation with it.
Aribi praised the role of the Bank and expressed the Ministry's eagerness to strengthen cooperation with the group in various fields. These include activities related to the Office of Entrepreneurship, small project incubators, solid and liquid waste management, and the Office for Women's Support and Empowerment. This collaboration aligns with the vision and plan of the Ministry.
This initiative by the IDB represents a significant step towards improving the infrastructure and service quality in Libyan municipalities, contributing to the country's overall development and progress.
In early November, the European Union expressed its intention to participate in the Derna Reconstruction Conference, in eastern Libya, as observers at a technical level.
The statement emphasised the relevance of United Nations Security Council Resolution 2702/2023, which calls for coordinated national efforts to secure funding for long-term reconstruction projects in eastern Libya.
The EU added that its attendance, "will not constitute an endorsement of any unilateral reconstruction initiatives, or of the status of any Libyan participants."
It further advocated for the "transparent management and equitable distribution of resources, ensuring effective oversight and accountability to the Libyan people. These measures are essential to achieving lasting progress and reconstruction in the region."