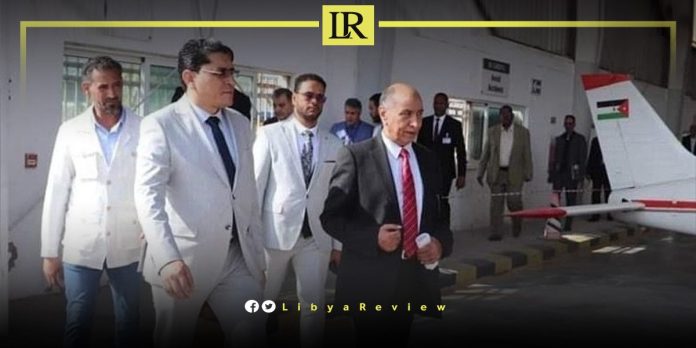 In a significant move towards enhancing bilateral relations, Libyan Labour Minister, Abdullah Al-Sharif Arhouma recently held discussions about collaborating with the Jordanian Flight Academy.
This meeting marks a pivotal step in Libya's efforts to advance its aviation sector, including aircraft maintenance and other key areas, while also aiming to enrich the local Libyan job market with specialized skills.
During an official visit to the Royal Jordanian Flight Academy, Arhouma was received by Mohamed Fayyad Al-Khawaldeh, the General Director of the Academy and the Queen Noor Civil Aviation Technical College.
Arhouma conducted a comprehensive tour of the college and academy facilities, and observed technical workshops. He expressed his admiration for the high level of professionalism and excellence maintained by the institutions.
These have been pivotal in shaping the aviation landscape over several decades, contributing significantly to the development and broadening of cooperation frameworks, with the Libyan aviation sector.
The discussions and visit underscore the Libyan government's commitment to expanding its aviation capabilities, and the potential role of Jordanian expertise in this endeavour. This collaboration could lead to significant advancements in the aviation sectors of both countries, offering opportunities for growth and development in a critical industry.
Last month, the Libyan Parliament-designated Prime Minister, Osama Hammad tasked the Ministry of Labour to enhance efficiency across government ministries and institutions.
As part of these efforts, offices have been equipped with the necessary equipment. Challenges were discovered in areas such as overlapping services between the Ministry of Labour and the Civil Service Ministry, issues with foreign workers, training, struggling companies, and more.
Collaboration with Jordan has been initiated to address these issues.
Over thirty trainees have been sent to Jordan for an IT course. An internal training plan will be implemented soon.
Members of a visiting Jordanian advisory delegation expressed gratitude for the warm reception. They conveyed condolences for flood victims in the eastern region, and were pleased to contribute to the ministry's strategic plans.
Concluding the meeting, the Minister issued instructions for a maintenance assessment of the Quminis office, aiming to enhance services for local citizens.