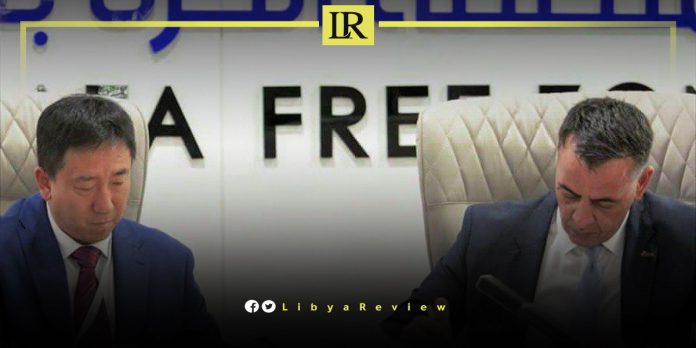 The Free Zone of Misrata has signed a memorandum of understanding with China Harbor, a major port operator, to explore infrastructure investment projects.
The memorandum was signed during the North Africa International Ports and Free Zones Conference. It outlined plans to study and initiate various projects for the development of the Free Zone in locations (A) and (B), and invest in significant infrastructure projects.
China Harbor is a leading Chinese company specializing in port execution and operations, engineering works, and large-scale infrastructure projects.
The company has a global presence, undertaking projects such as port development, tunnels, bridges, roads, and marine initiatives in over 100 countries and regions.
In August, the Deputy Head of the Libyan Presidential Council, Musa Al-Koni, and Chinese President, Xi Jinping reached an agreement to enhance economic ties, allowing Chinese companies to resume operations in Libya.
The agreement was made on the sidelines of the Africa-China Cooperation session at the BRICS summit. This marked a strategic partnership, aimed at mutual development and comprehensive cooperation.
Al-Koni emphasised the pivotal role that China could play in supporting Libya's stability efforts, and accelerating reconstruction projects. He urged the removal of obstacles hindering the operations of Chinese companies in Libya, and the return of companies with stalled projects.
This move, he noted, would also open doors for broad investment opportunities for various Chinese enterprises.
Al-Koni noted that China's global influence sends a strong reassuring message to companies worldwide, about the growing stability in Libya. He underlined the success of collaborative efforts between African nations, neighbouring countries, and Europe in achieving this stability.
Al-Koni stressed the need for Chinese expertise in Libya's reconstruction projects, and cited China's exceptional economic rise as a model to emulate. He highlighted the swift transition of China's economy to a global powerhouse, making it a role model for other countries.
President Xi expressed his interest in further developing Libyan-Chinese relations, in alignment with the strategic and economic aspirations of BRICS. He welcomed collaborative efforts with Libya, and affirmed China's commitment to supporting the nation's rebuilding process.
He assured Al-Koni that China is "prepared to deepen mutual political trust, expand economic cooperation, and foster a comprehensive strategic partnership with Libya."
This groundbreaking agreement holds the potential to bolster both Libya's economic growth, and China's expanding influence on the global stage. As Chinese companies return to contribute to Libya's reconstruction, the partnership marks a significant step towards a prosperous,
and interconnected future for both nations.