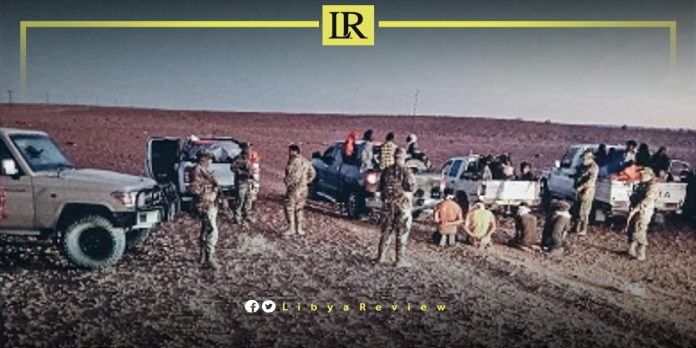 Libyan security forces have arrested several smugglers, and 120 migrants in a desert operation. The 444th Brigade, affiliated with the Government of National Unity (GNU), destroyed one vehicle, and seized six more, after direct clashes with smugglers.
The statement confirmed that the smugglers and migrants, who were lost in the Libyan desert, were also arrested.
The migrants were of varying nationalities, including Sudan, Niger, Chad, Ethiopia, and Eritrea.
Last week, Interior Minister, Emad Al-Trabelsi said that "the challenge of illegal migration and smuggling primarily concerns Europe."
He highlighted that "migrants aim for European countries, and Libya serves as a transit state with open borders."
Al-Trabelsi expressed hope for assistance from countries like Germany, Italy, France, and Spain in resolving the crisis.
The minister clarified that "anyone entering Libya unofficially would be legally and systematically repatriated to their country through voluntary return procedures."
He announced the government's rejection of localizing migrants in Libya. He also underscored the ministry's commitment to comprehensive security, beyond borders and cities.
Al-Trabelsi stated, "We do not intend to act as a coastal guard by returning migrants inland. We bear the security, economic, and social burdens, aiming to repatriate them to their homelands."
He pointed to the ongoing efforts to control the Tunisia-Libya border, including the installation of security towers for surveillance.
He revealed that plans are underway to secure the borders with Algeria in the coming period.
Notably, the Libyan Ministry of Interior announced the deportation of 600 Egyptians, who had entered the country illegally. They were sent back overland, via the border crossing at Amsaad.
Major General Mohamed Breida, Deputy Minister for Security Affairs at the Anti-Illegal Immigration Agency, said, "A deportation operation is organized from the capital, Tripoli, for 600 Egyptian citizens who entered illegally."
Hundreds of young men were seen dressed in grey or white shirts and black trousers, responding to the officer's call, before each received a transit permit. Around ten buses waited in the parking lot to take them to the Sallum border crossing, at the eastern extremity of Libya, according to AFP.