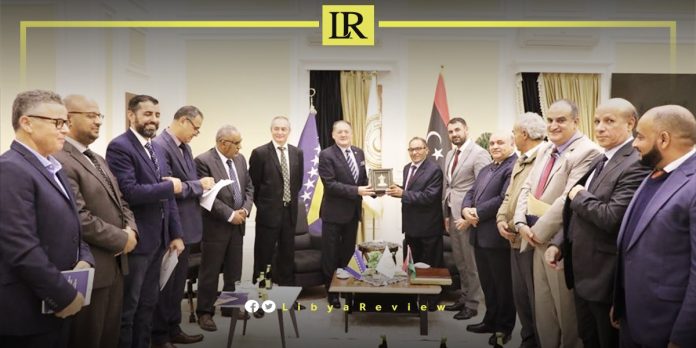 Libya's Minister of Higher Education and Scientific Research, Omran Al-Qeeb recently held discussions with the Ambassador of Bosnia and Herzegovina, Nermin Misenovic. The talks focused on enhancing cooperation in higher education, and scientific research.
During the meeting, Al-Qeeb presented a draft memorandum of understanding for mutual cooperation in higher education and research, which is currently under review by the Bosnian side.
Al-Qeeb praised the relationship between the two nations, emphasizing the importance of supporting and developing it further. He noted that Bosnian universities, which offer programs in English and have EU-recognized degrees, are particularly attractive.
Al-Qeeb highlighted the government's focus on sending faculty members, high-achieving students, and those specializing in rare medical fields for overseas education. He expressed hope that Bosnian universities would be a significant destination for these candidates.
Libya, emerging from years of conflict, is rebuilding its education sector. The government sees international collaboration as key to enhancing the quality of education and research. Sending students abroad is part of this strategy.
Bosnia's higher education system is recognized for its quality, and EU-accredited degrees. Its universities attract international students, offering courses in English and diverse fields.
Educational collaborations like this are vital for cultural exchange and academic development. They provide students with global exposure, and help strengthen bilateral relations.
Such collaborations offer opportunities for students and faculty to gain international experience. They can enhance research capabilities, and academic standards in both countries.
These talks signify a promising step towards stronger academic and cultural ties between Libya and Bosnia. The potential agreement could pave the way for fruitful educational and scientific collaborations.
Libya has been in chaos since a NATO-backed uprising toppled longtime leader Muammar Gaddafi in 2011. The county has for years been split between rival administrations, each backed by rogue militias and foreign governments.
The current stalemate grew out of the failure to hold elections in December 2021, and the refusal of Prime Minister Abdel-Hamid Dbaiba, who is leading the transitional government, to step down.