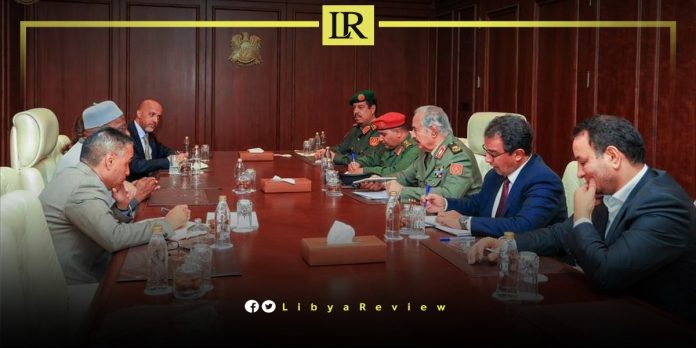 The Commander-in-Chief of the Libyan National Army (LNA), Field Marshal Khalifa Haftar received the UN Envoy, and Head of the UN Support Mission in Libya (UNSMIL), Abdoulaye Bathily and his accompanying delegation.
The meeting held in Benghazi, involved "discussions on the latest political developments in Libya," with no specific details provided.
The meeting was attended by Haftar's office director, Major General Khairy Al-Tamimi, the Commander of the 155th Brigade, Major General Basem Al-Bouashi, and political advisor, Belgasem Khalifa Haftar.
Notably, 63 Libyan political parties have called on UNSMIL to support the formation of a unified government, which will create the conditions necessary for elections.
The demand was made during a protest by several Libyan parties on Tuesday evening, in front of the UNSMIL's headquarters in Janzour.
The protest aimed to accelerate the Presidential and Parliamentary elections, in response to the will of the Libyan people.
Protesters blamed the Mission for the current political deadlock, urging immediate action to support and facilitate elections.
They called for an "expansion of consultations with political parties, the formation of a unified government to lead the country to quick elections, and the resolution of the political deadlock while completing the unification of Libyan institutions."
The parties expressed concerns that UNSMIL "might transform from a neutral tool supporting the Libyan people, to serving the interests of those clinging to power."
They urged the Mission to "urgently prioritize its efforts, using all available means to pressure parties obstructing the Libyan people's will to transition to a phase of political stability, through free, fair, and transparent Presidential and parliamentary elections."