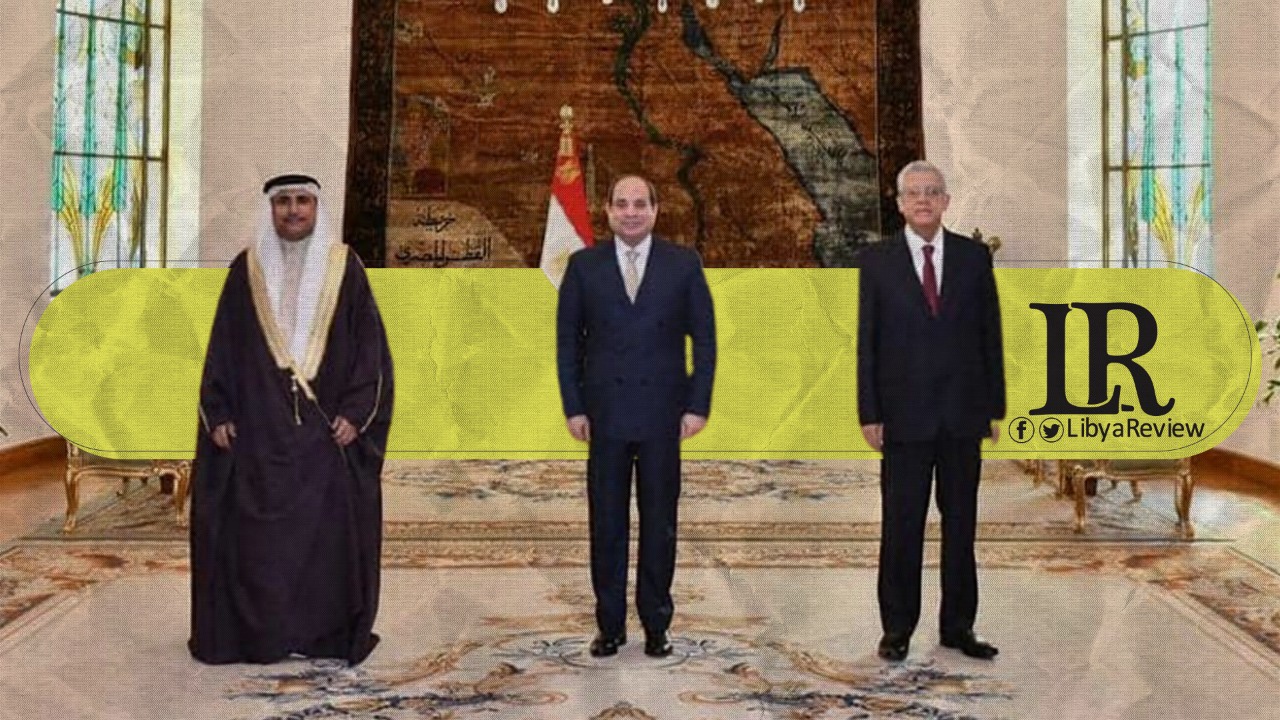 On Saturday, Egypt's President Abdel Fattah El-Sisi held a meeting with the Arab Parliament Speaker Adel Al-Asoumi in Cairo to discuss the latest regional developments. According to the spokesman for the Egyptian Presidency, Bassam Rady, the President and the Arab Parliament Speaker discussed the situation in Libya.
In a statement, the spokesman said that President El-Sisi reiterated his rejection of all foreign interference in Libya. He noted that Egypt's stance focuses on the need to achieve balance and preserving Libya's political dialogue.
El-Sisi also stressed the need to unify the efforts of all Arab countries in order to establish similar lines to safeguard Arab national security regarding all issues, especially the Libyan crisis.
The spokesman stated that ways of strengthening the role of the Arab Parliament for dialogue and democracy were also discussed during the meeting.
The meeting was attended by Dr. Hanafi Gibali, Speaker of the Egyptian Parliament, and Sameh Shoukry, Egypt's Minister of Foreign Affairs.
During the meeting, El-Sisi reiterated Egypt's full support of the Arab Parliament as a platform that interacts with the public concerns of the Arab people regarding various vital issues.
Al-Asoumi expressed how honoured he was to meet President El-Sisi, praising the Egyptian president's role in preserving Arab national security. The president's influence has been clearly shown over the past years in dealing with various Arab issues, including his stance on foreign interference in Libya.
The Arab Parliament Speaker also appreciated Egypt's role in promoting joint Arab action at various levels, including the Arab Parliament, against the backdrop of Egypt's parliamentary expertise.
He also stated that there had been progress under the current leadership of President El-Sisi in Egypt.
Egypt is adopting a strategy of opening up to all Libyan parties supporting a political solution as part of its support for efforts to defuse the crisis in the country.
In 2020, Egypt announced an initiative dubbed the Cairo Declaration, which posits a Libyan-Libyan resolution as a basis for resolving the country's conflict, drawing on earlier international efforts, including the Berlin Conference.
On 22 September 2020, Egyptian President El-Sisi addressed several ongoing topics during the speech he gave at the United Nations' 75th General Assembly which was held virtually due to the coronavirus pandemic.
President El-Sisi said that his country is committed to a political solution for the current crisis in Libya based on the Skhirat Agreement, the Berlin Conference and the Cairo Declaration, which set a schedule for establishing a consensual government.
Libya has been unstable since the 2011 overthrow and death of Muammar Gaddafi in a NATO-backed uprising, with warring rival administrations battling for power. Since the downfall of Gaddafi, Libya has also become a key route for irregular migration from Africa into Europe, across the Mediterranean Sea.