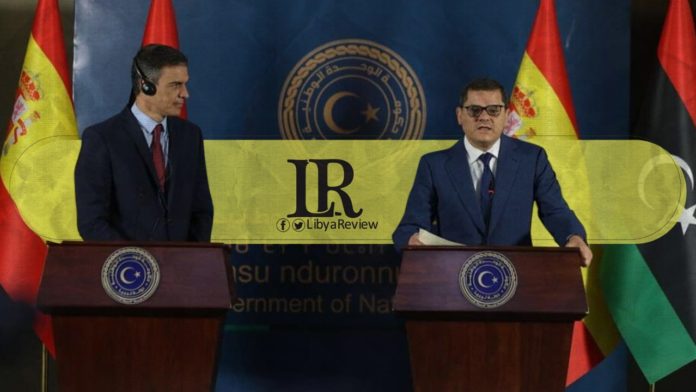 On Thursday, Prime Minister of the Libyan Government of National Unity (GNU), Abdel-Hamid Dbaiba held talks with the Spanish Prime Minister, Pedro Sanchez, who is currently visiting Tripoli.
In a joint press conference, Dbaiba welcomed the return of diplomatic relations between Libya and Spain after the absence of high-level diplomatic representation for years. He noted that this sends a message, that Libya is witnessing a new stage towards stability and recovery after years of war and destruction.
Dbaiba stated that Spain's decision to reopen its embassy in Tripoli reflects the kingdom's determination to develop bilateral relations, and strengthen its diplomatic presence in Libya.
He also voiced his hope to resume air traffic between Libyan and Spanish airports, and facilitate the issuance of visas to Libyans, especially students enrolled in Spanish universities.
The Libyan PM praised all ongoing efforts made by the European Union and Spain in strengthening Mediterranean security, securing borders, and ensuring stability, to support Libya's democratic transformation by holding free, transparent, and fair elections. He stressed that maintaining Libya's sovereignty, independence, territorial integrity, and unity, throughout the country, was a priority for the current interim government.
In turn, the Spanish Prime Minister stressed his support for holding Libya's national elections as scheduled, on 24 December 2021. He added that the Spanish Consulate will continue providing visa services in Libya, stressing that the two countries have good economic and humanitarian relations.
He also expressed his aspiration for Spain to participate in the reconstruction of Libya during the coming period.
It was agreed during the talks to reactivate the Libyan-Spanish joint committee, which last convened in 2008, to re-evaluate all previous agreements.
A number of memoranda of understanding were also signed between the two sides in several fields, to help contribute to supporting the economy, development, trade exchange, and bilateral investment.