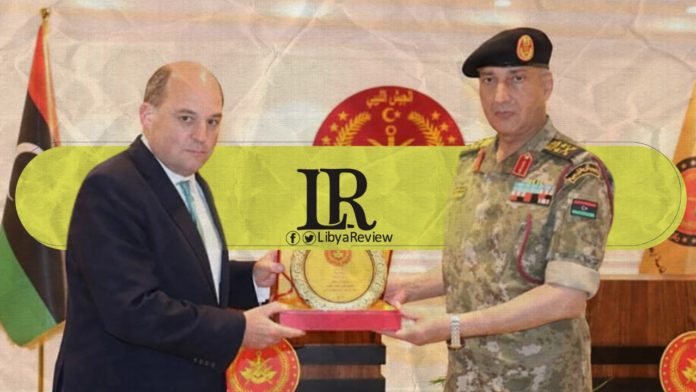 Chief of Staff of the Armed Forces for Western Libya, Mohamed Al-Haddad, met with Ben Wallace, the Defence Secretary of the United Kingdom in Tripoli.
The meeting was attended by the commanders of the military regions, chiefs of the qualitative staff, and members of the 5+5 Joint Military Committee (JMC). As well as the Director of the Office of the Chief of the General Staff of the Armed Forces, the Commander of the Misrata militias stationed in Abu Qurayn, Ibrahim Bait Al-Maal, and the Commander of the Western Military Region, Osama Al-Juwaili.
According to a statement, future joint military cooperation between the two countries was discussed. Wallace stressed the provision of military support, and that work is underway to coordinate various training programs for Libyan soldiers.
Al-Haddad presented a commemorative shield to Wallace, as well as the shield of the emblem of the General Staff of the Armed Forces, according to the statement.