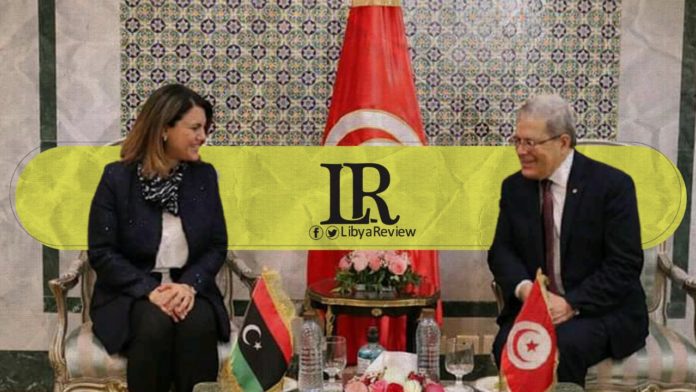 On Sunday, the Libyan Minister of Foreign Affairs and International Cooperation, Najla Al-Mangoush, held a telephone conversation with Tunisian counterpart, Othman Al-Jarandi, to discuss bilateral relations and the latest political developments.
According to a statement issued by the Tunisian Ministry of Foreign Affairs, Al-Jarandi reiterated Tunisia's support for the political path in Libya, praising the current momentum witnessed by the Tunisian-Libyan relations.
The two Ministers also discussed arrangements for holding a meeting of the Tunisian-Libyan Joint Higher Commission to bolster bilateral ties in all fields.
The talks fall within the framework of coordinating positions between the two countries on a number of regional and international issues of common interest.
Last month, Libyan Prime Minister Abdelhamid Dbaiba met with his Tunisian counterpart, Hichem Mechichi, in Libya's capital Tripoli, where they signed an agreement on mutual trade and movement of travelers.
The agreement also includes technical cooperation on issues such as land, sea and air transportation, as well as activating the work of joint commissions on land and sea transportation.
Earlier in March, Tunisian President, Kais Saied, paid a visit to Libya where he discussed bilateral cooperation with Mohamed Mnifi, President of the Presidency Council.
Saied and Mnifi discussed bilateral economic ties, including boosting trade, central banks cooperation, and exchange of travelers as well as two-way investment.