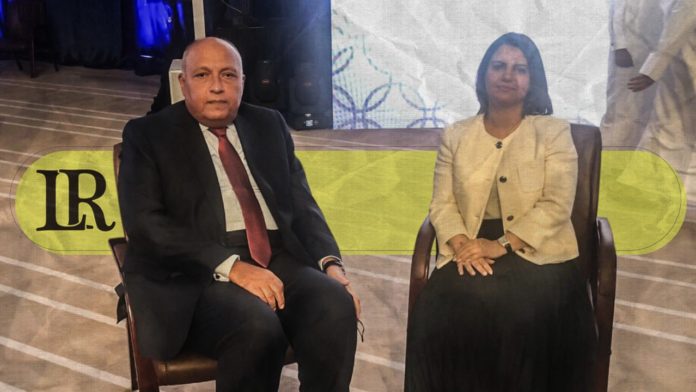 Egyptian Foreign Minister, Sameh Shoukry, will receive his Libyan counterpart, Najlaa Al-Mangoush, at Tahrir Palace in Cairo on Saturday.
The two top diplomats will hold a joint press conference after the meeting to reveal its outcome.
Well informed sources told Libya Review that Al-Mangoush and Shoukry will discuss developments on the Libyan arena, especially pertaining to holding the elections on December 24th of this year.
They will also review the importance of pushing forward the agreed steps and procedures within the framework of the political process, the source added.
Shoukry affirmed that Egypt pays great attention to the situation in Libya and will always continue its tireless efforts internationally to restore stability in the North African country and preserve its security and sovereignty.
In a press conference on Wednesday he said that the upcoming Berlin conference II comes after the current Libyan interim government assumed power and made efforts to implement all the outcomes of the Libyan Political Dialogue Forum (LPDF) in Geneva in accordance with the agreed-upon timeframe.
The Egyptian top diplomat added that the countries participating in the Berlin Conference on Libya have a responsibility to put in place all mechanisms aim to assist Libyans to achieve these goals. He stressed that Egypt will contribute to this and continue its close coordination with all Libyan parties, whether the government or politicians in the House of Representatives (HoR).