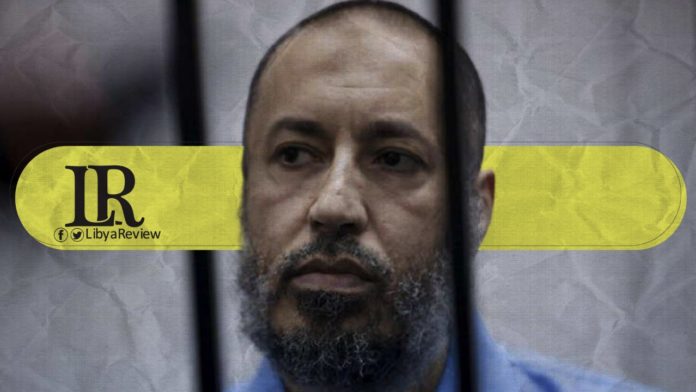 Khaled Al-Zaidi, the lawyer of the family of the late leader, Moammar Gaddafi, accused the current Libyan authorities of illegally keeping Saadi Gaddafi in prison as a 'political hostage', pointing out their reluctance to release him.
In an interview with the Al-Jamahiriya TV channel on Friday, Al-Zaidi explained that he submitted a briefing note to the Interim Government of National Unity (GNU), regarding the necessity of releasing Saadi. However, he claimed that the Head of the GNU's Prime Minister's office refused to receive it.
He also revealed that he had previously filed a notice to the Libyan Attorney General, the former Minister of Interior and the former Prime Minister of the outgoing Government of National Accord (GNA), Fayez Al-Sarraj, who did not approve Saadi's release from prison.
Al-Zaidi stressed that the GNU's Prime Minister, Abdelhamid Al-Dbaiba, and the Head of the country's Presidential Council must bear their legal responsibility for the failure of releasing Saadi. He added that Saadi's detention is a form of impunity that requires punishment for those detaining him.
He confirmed that he would file lawsuits internationally against all those involved in Saadi's incarceration and his torture despite being acquitted by the court.
He said that Saadi's captors denied him the appropriate medical care, putting his life in danger.
The family urged the international community and human rights officials to assume their legal and moral responsibilities against those who have "lost their conscience" and continue to "torture" Saadi Gaddafi despite his acquittal.
Al-Hadaba is among the most notorious prisons in Libya where thousands of prisoners, including former regime figures, are held.
Saadi Gaddafi first appeared before the Tripoli appeals court in May 2015 on charges of involvement in the killing of the late Libyan football player, Bashir al-Rayani, later in 2005.
In 2018, the Libyan northern Tripoli court acquitted Saadi Gaddafi for the murder of the late athlete Bashir al-Rayani.
The court issued its verdict to acquit Saadi, for the premeditated murder, deception, threats, enslavement and defamation of Bashir al-Rayani.
In September 2011, Saadi fled to Niger shortly before the fall of his father's regime. Niger granted him asylum for "humanitarian reasons," but handed him over to Libya in 2014, accusing him of destabilizing southern Libya and moving sleeper cells to overthrow the regime, according to the Libyan authorities.
Interpol issued a red note against Saadi in 2011 after the Transitional Council, which was formed shortly after the 2011 uprising broke out against the Gaddafi regime, accusing him of "taking over property by force and intimidation" when he was president of the Libyan Football Federation.
Saadi is late Moammar Gaddafi's third son. He served as Deputy Commander of the security units in his father's regime.