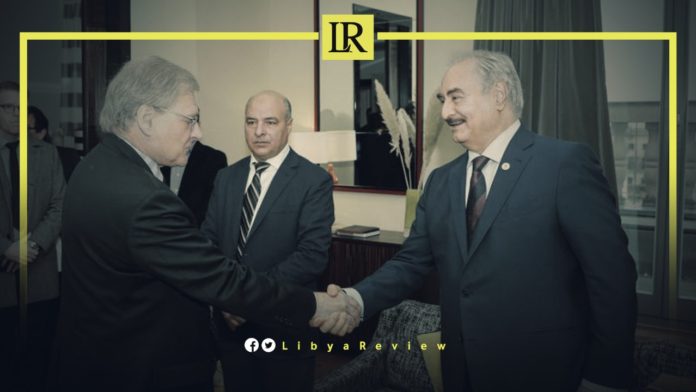 On Wednesday, Commander-in-Chief of the Libyan National Army (LNA), Field Marshal Khalifa Haftar, and the US Ambassador to Libya, Richard Norland held talks in Cairo amid international efforts to salvage a UN-brokered roadmap to hold elections later this year.
During the talks, Ambassador Norland stressed that the US continues to focus on supporting the necessary compromises to establish a constitutional basis and legal framework required to hold elections on 24 December 2021.
On his part, Haftar said that the LNA supports all efforts to successfully hold the upcoming presidential and parliamentary elections. The meeting comes as part of US efforts to support the December elections, with the US Embassy tweeting, "the United States supports the right of the Libyan people to select their leaders through an open democratic process and calls on key figures to use their influence at this critical stage to do what is best for all Libyans."
The Libyan Political Dialogue Forum (LPDF), a 75-member body from various walks of life, has so far failed to agree on a legal framework to hold the elections. The forum met online on Wednesday to consider four proposals for the constitutional basis for elections, according to the UN Support Mission in Libya (UNSMIL).
The LPDF's "lack of ability to reach an agreement (on the constitutional basis) risks resulting in depriving once again the Libyan people of their right to democratically elect their representatives and restore the long-lost legitimacy of Libyan institutions," UNSMIL head, Jan Kubis told the forum.
Another major hurdle is the presence of thousands of foreign forces and mercenaries, and the inability to withdraw them as required under the October ceasefire agreement, which ended the fighting in the oil-rich country.
UNSMIL, meanwhile voiced concern late on Tuesday about the abduction and disappearance of a senior government official, Rita Afritis, in Tripoli earlier this month.
Unidentified gunmen abducted Afritis with his colleague on 2 August 2021, following his visit to government offices in Tripoli. The fate and whereabouts of both Afritis and his colleague remain unknown, and UNSMIL expressed concern for their safety and security.
The UN Mission also highlighted that individuals who have taken on roles in support of Libya's democratic transition and state institutions are being targeted in this manner. It claimed that this has serious implications for the peace and reconciliation process, and for the full unification of national institutions.