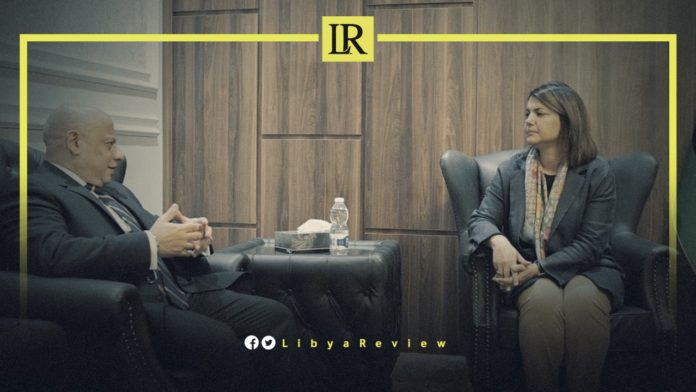 On Monday, Libya's Minister of Foreign Affairs Najla Al-Mangoush held a meeting with the Egyptian Ambassador to Libya, Mohamed Tharwat Selim in Tripoli.
At the outset of the meeting, the Egyptian Ambassador conveyed the greetings of President Abdel-Fatah El-Sisi and Foreign Minister Sameh Shoukry to the Libyan authorities and people.
In turn, Al-Mangoush welcomed the Egyptian Ambassador in his "second homeland," stressing that he would receive all support in his mission, in order to "enhance the distinguished and friendly relationship that binds the two Egyptian and Libyan peoples."
In turn, Selim revealed that the Egyptian Embassy in Tripoli and the Consulate in Benghazi are being prepared for their official reopening soon.
The meeting also touched on prospects for bilateral cooperation in the fields of healthcare, the judiciary, and the economy, organizing the presence of Egyptian workers in Libya, and legalizing their status through electronic linking of employment-related systems.
Al-Mangoush also expressed her gratitude to Egypt for its solidarity with the Libyan people in addressing the COVID-19 pandemic. On 8 August, the Libyan Ministry of Health received a third shipment of 100,000 liters of oxygen from Cairo.
The shipment comes on the backdrop of the agreement signed between the Libyan and Egyptian Ministries of Health, in response to the surge in cases in the country.