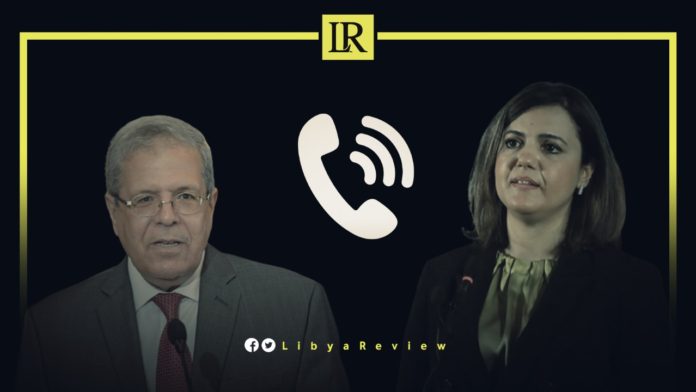 On Saturday, the Libyan Minister of Foreign Affairs and International Cooperation, Najla Al-Mangoush conducted a telephone conversation with her Tunisian counterpart, Othman Jarandi. They discussed the Tunisian authorities' continued closure of the Ras Jedir and Dhiba-Wazen common border crossings.
Last week, the Prime Minister of the Libyan Government of National Unity (GNU), Abdelhamid Al-Dbaiba, said that the country's border crossings with Tunisia will open, following strict precautionary measures.
"Al-Mangoush conducted two phone calls with her Tunisian counterpart to question the continued closure of the two border crossings by the Tunisian side. This adds to the hardships of Libyan and Tunisian, especially families and patients, who are traveling for treatment in light of the increasing outbreak of the deadly coronavirus," the Libyan Foreign Ministry said in a statement.
On his part, the Tunisian Minister explained that they have no objection to reopening the crossings once they receive approval from the scientific committee concerned with combating COVID-19. They stated that the continued closure of the border crossings is a precautionary health measure, aimed at protecting the citizens of the two countries, and reducing the high infection rates of COVID-19.
Al-Jarandi confirmed to Al-Mangoush, that both crossings will be reopened, as soon as they receive the notification of the committee concerned with confronting COVID-19.
On the 8th of July, Libya closed its land and air borders with Tunisia, due to the spread of COVID-19 and the deterioration of the healthcare situation in the neighboring country.
The decision came as a precautionary step due to what the government described as, "the exacerbation of the epidemiological situation in the State of Tunisia, and the increase in the rate of infections with the Delta variant."
Many Libyans travel to Tunisia to receive medical treatment, particularly after Libya descended into chaos after the overthrow of long-time leader Moammar Gaddafi in a NATO-backed uprising in 2011.