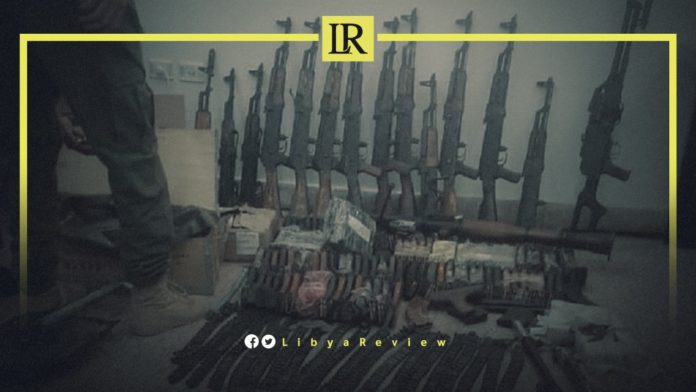 The Libyan National Army (LNA) has managed to seize huge cache of weapons in the south of the country, which were believed to be on their way to armed gangs and terrorist organisations in Mali and Niger.
The second company of the 128th Reinforced Brigade stationed in the region of Ubari, said in a brief statement on Monday, that the operation was carried out 100 kilometers from the city, in southwestern Libya.
The smuggling of weapons, fuel, vehicles, and people through southern Libya, has intensified during the military-political crisis emanating since 2011 civil war.
In April, Niger security forces announced that they seized two cars from Libya, carrying 77 Kalashnikov rifles, two missiles, two pistols, and over 30,000 ammunition rounds. The security forces in the city of Ingal, northern Niger, chased the two cars. One of the vehicles overturned on the road, and the police were able to arrest the criminals.
According to a report disclosed by the United Nations in February, there are an estimated 29 million weapons in Libya that have plunged the country into chaos, and negatively affected neighbouring country such as Chad, Niger, and Mali. The report also indicated that Libya has become the world's largest stockpile of uncontrolled weapons.
In February 2020, the President of the African Union Commission, Moussa Faki, stressed that the situation in Libya could make it a center for arms distribution in Africa.