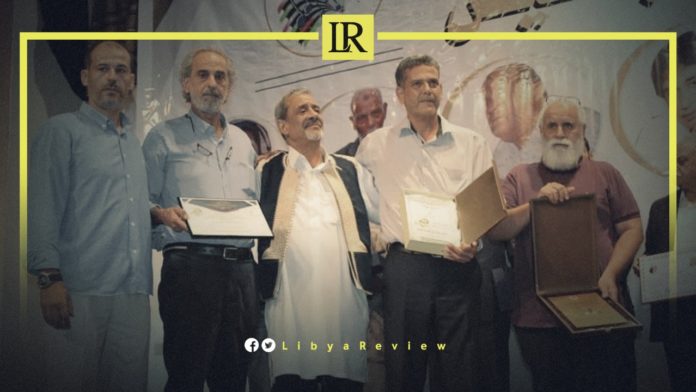 The office of the Libyan Ministry of Culture and Knowledge Development in the eastern region, and the Benghazi Artists Syndicate held a memorial ceremony to honour a number of late artists.
Those honoured included the late journalist Abdel-Fattah Al-Wasea, artist Haitham Derbash, writer Youssef Al-Sharif, and artist Jaber Othman. As well as writer Saad Al-Abra, the late artist Issa Abdel-Hafeez, and late journalist Amna Brik.
During the sombre ceremony, the works of the creatives were recalled, and the ministry's coordinator, Rafea Al-Fakhri, gave a eulogy. He conveyed the condolences and sympathy of Mabrouka Toghy Othman, the Minister of Culture and Knowledge Development, to the families and friends of the departed. During the event, shields of loyalty were presented to the families and friends in attendance, in appreciation of their creative, cultural, and artistic works.
The Office of Culture and Knowledge Development in Derna participated in presenting the Shield of Loyalty to the late artist Haitham Derbash, in appreciation of his many theatrical works in the city.
The Secretary of the Fatah Movement in the east, presented certificates of thanks and appreciation and shields of giving to the families of the late creatives. He honoured Al-Fakhri for all his efforts in the cultural, media, and social forums of the region.
The event was attended by a group of artists, intellectuals, and media personalities, in addition to the Ajyal band from the city of Derna, and a number of members of the Council of Benghazi Dignitaries and Elders.