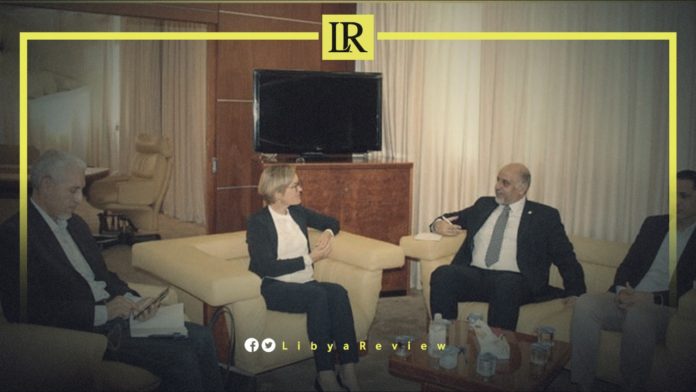 Libya's Minister of Planning, Fakher Boufarneh, held a meeting where he received the new UK Ambassador to Libya, Caroline Hurndall in Tripoli. They discussed aspects of bilateral cooperation, and the necessity of achieving stability to hold the December elections.
Boufarneh commended the UK's role in supporting Libyan institutions, and said that he looked forward to opening new perspectives for cooperation. Ambassador Hurndall reiterated the UK's full support to Libya, and confirmed that all technical and logistical aid to Tripoli would continue to be extended to help the country.
Earlier, the UK permanent representative to the UN, Barbara Woodward said that time is running out for Libya's rival parties to agree to a legal and constitutional basis for the elections.
During the UN Security Council briefing on Libya, Woodward said: "we are at a critical point. There is a clear demand from the Libyan people to participate in elections and have their voices heard. It is essential that those in authority who represent the Libyan people reach an agreement on holding elections and that they commit to accepting the results of those elections."
The British diplomat also welcomed the efforts being exerted by the Libyan Parliament to find a solution to this issue. She encouraged further engagement to ensure unanimity on holding the December elections, as set out in the Libyan Political Dialogue Forum (LPDF) roadmap, and endorsed by UNSCR 2570.
Woodward confirmed that the UK remains committed to championing women's full, equal, and meaningful participation in the December polls. As the elections can offer an opportunity for the full meaningful participation of women as voters, candidates, and decision-makers in the political process.
In addition, she stressed the need to withdraw all foreign forces and mercenaries from Libya without delay. "We look forward to the initial deployment of the UN ceasefire monitors in support of the Libyan Ceasefire Monitoring Mechanism in the coming weeks. The Joint Military Commission (JMC) 5+5 Ceasefire Monitoring Mechanism supported by the United Nations Support Mission in Libya (UNSMIL) has the UK's full support in driving this process forward," Woodward added.
The Ambassador also urged the authorities to build a stable, prosperous, and inclusive future for all Libyans.