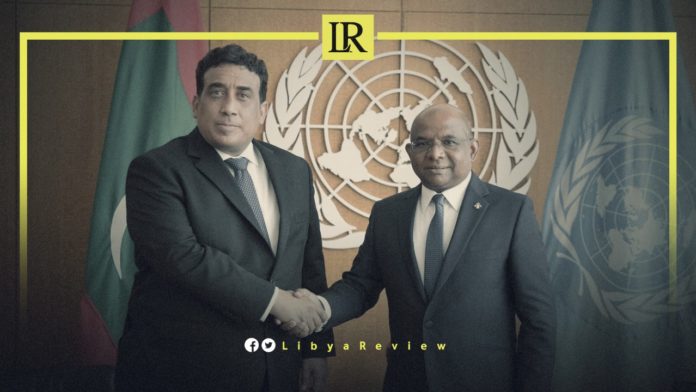 On Tuesday, Head of Libya's Presidential Council, Mohamed Al-Mnifi held talks with Maldivian Foreign Minister, Abdullah Al-Shahed, who was elected as the Chairman of the current 76th session of the United Nations General Assembly in New York.
During the meeting, Al-Mnifi and Al-Shahed discussed ways to enhance cooperation between the General Assembly and Libya's executive bodies.
Al-Shahed praised Al-Mnifi's efforts in achieving peace and stability in Libya, stressing the need to reach a comprehensive political settlement in the North African country. He also called on world leaders to take a serious stand in order to eradicate hunger, poverty, and wars.
Al-Mnifi arrived in New York on Monday, and met the President of the current session of the UNGA, and Egyptian Foreign Minister, Sameh Shoukry.
A source close to the Presidential Council said that Al-Mnifi's visit to New York will last for a week. He is also set to meet with a number of Arab and western foreign ministers concerned with the Libyan crisis.
On Monday, French Foreign Minister, Jean-Yves Le Drian announced that France will host an international conference on Libya on 12 November.
Le Drian explained that Germany and Italy will help prepare for the conference, which aims to ensure Libya's elections are held on time. As well as to discuss the withdrawal of foreign fighters and mercenaries from the country.
"In view of the December elections, France will organize, around the President of the Republic, an international conference on Libya on November 12," Le Drian said during a press conference on the sidelines of the UN General Assembly, according to AFP.
Le Drian and his German and Italian counterparts, Heiko Maas and Luigi Di Maio, will also co-chair a meeting devoted to Libya on Wednesday in New York City.
Paris' announcement of the international conference coincides with Libya's preparations to hold elections on 24 December, and the emergence of new differences between its rival parties.
France, Italy, Germany, the United States, and the UK confirmed the importance of holding the elections on time in a joint statement last week. They called on all Libyan actors to ensure "inclusive, free and fair" elections on 24 December.