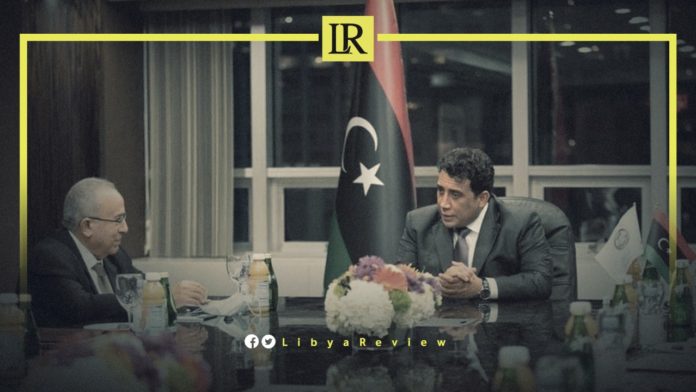 Head of Libya's Presidential Council, Mohamed Al-Mnifi met with the Algeria Minister of Foreign Affairs, Ramtane Lamamra on the sidelines of the United Nations General Assembly's 76th session.
During the meeting, Lamamra affirmed Algeria's support for Libya to achieve a comprehensive national reconciliation program.
"I was pleased to be received by the President of the Presidential Council, Mohamed Younes Al-Mnifi. I renewed for him Algeria's solidarity and permanent support for the Libyan people to embody the priorities of the current stage," Lamamra tweeted. He added that President Abdelmadjid Tebboune repeatedly emphasised the Algerian support for Libya to achieve comprehensive national reconciliation.
Earlier this month, Lamamra confirmed his support for the departure of all foreign forces from Libya,"not just mercenaries," before the 24 December elections.
Lamamra said that the removal of these forces should not be random, but rather requires the preparation of an organised plan under international auspices. He explained that Algiers has consulted with the permanent members of the Security Council about the danger of the unorganised exit of these forces from Libya, and its impact on neighbouring countries.
In an interview with Sputnik, the FM indicated that the recent meeting of Libya's neighbouring countries was a translation of the position announced by President Tebboune, regarding efforts to resolve the crisis without interference. He added this meeting proved that Tunisia stood by the Libyan people to hold the elections, and ensure that they are held without foreign interference.
Last month, Libya's Minister of Foreign Affairs, Najla Al-Mangoush called on neighbouring countries to support and adopt the Libya Stability Initiative, and invited them to participate in an international conference that Libya will organise in late September.
During her speech at the foreign minister's meeting of Libya's neighbours in Algeria, Al-Mangoush explained that the initiative aims to be Libyan-led and internationally supported in order to allow the Libyan people to choose their own future.