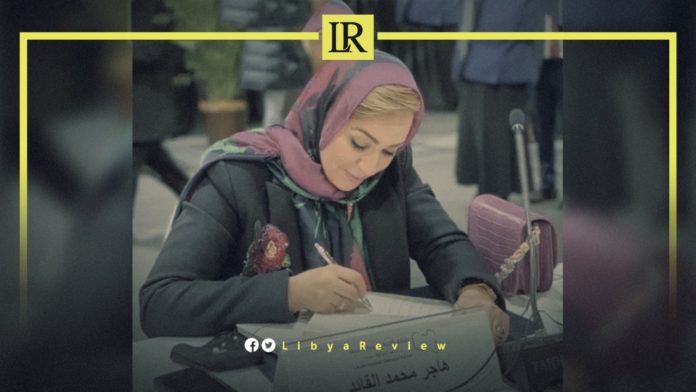 Hajar Al-Qayed, a member of the Libyan Political Dialogue Forum (LPDF), said that there were reports that discussed the Prime Minister Abdelhamid Al-Dbaiba's intention to postpone the elections for the next two years.
She confirmed that, for this reason, among other reasons, Parliament decided to withdraw the confidence given to Al-Dbaiba's government.
In statements to Libya's Al-Hadath TV channel, Al-Qayed confirmed that the LPDF is keen to hold the elections on their scheduled date, December 24th.
Last week, the Libyan House of Representatives (HoR) decided to withdraw confidence from Al-Dbaiba's government after a closed session attended by 113 members, 89 of whom approved the decision.
However, a number of Members of Parliament (MP) issued a statement in which they said that Parliament manipulated the real number of voters on the decision and that those who approved the decision did not exceed the quorum.
Al-Qayed also made it clear that Parliament has the right to withdraw confidence from the government as the HoR is a supervisory authority over this government.
She described Al-Dbaiba's call for the Libyans to take to the streets to reject the Parliament's decision as "disastrous", arguing that it is a historical precedent that causes the collapse of the hierarchy of the Libyan state.
"If Al-Dbaiba is really honest, and everything he does for the sake of Libya and not for personal intentions or the search for personal populism for himself, he must submit to the decisions of state institutions," she said.
"We are now in a critical condition. We do not say that Parliament is doing well. But we all know that Libya suffers from the duplication of legislative assemblies and the conflict between the High Council of State and the HoR," she added.
Al-Qayed denounced the talk about the dangers of withdrawing confidence from a government "that has only 3 months remaining until the next elections, according to the agreed-upon roadmap."
She also confirmed that the Al-Dbaiba government was still a legitimate government until December 24th, according to the roadmap.