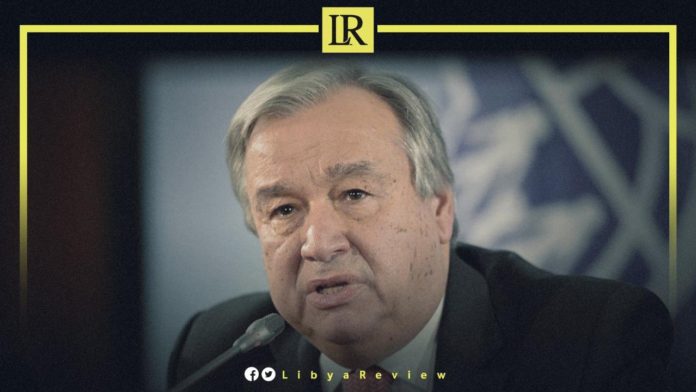 The Secretary-General of the United Nations (UN), António Guterres, reiterated his thanks to Tunisia for the facilities it provides for the work of the United Nations Support Mission in Libya (UNSMIL). He praised the Tunisian efforts to contribute to advancing the path of a political settlement in Libya.
This came during a meeting between Guterres and the Tunisian Minister of Foreign Affairs, Othman Jerandi, on the sidelines of the United Nations General Assembly (UNGA) 76th session's works.
Jerandi affirmed Tunisia's firm commitment to continue supporting the path of a political settlement in Libya. He confirmed the deep-rooted relations existing between the two countries. He added that his country is away from any narrow interests or goals other than serving peace, security and stability in Libya and the region.
He stressed the importance of helping the Libyans realize the benefits of the legislative and presidential elections scheduled for December 24th.
On Friday, Guterres met with Head of the Libyan Presidential Council, Mohamed Al-Mnifi, and discussed the latest developments in Libya.
During the talks, Guterres stressed the importance of holding the upcoming elections as scheduled at the end of this year. He welcomed the steps taken by the country's Presidential Council to advance the paths of dialogue among all Libyan parties.
In a statement, the UN said that the two sides affirmed the need to ensure the full removal of all foreign fighters and mercenaries from Libya.
In turn, Al-Mnifi commended the UN efforts in supporting the Libyan political dialogue, to restore stability and build the democratic state that the Libyans aspire to. He highlighted the very important role being played by UNSMIL in helping the success of the political process and paving the way for the December elections.
Notably, Al-Mnifi arrived in New York on Monday to participate in the 76th session of the UNGA. He met with the Egyptian Foreign Minister, Sameh Shoukry, and a number of Foreign Ministers of Arab and African countries.