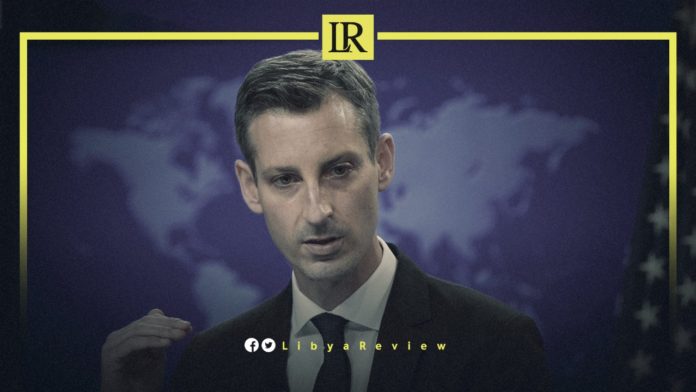 The United States (US) State Department Spokesman, Ned Price, said that his country's goal is to bring Libya to free and fair elections. He added that the US has been pushing the Libyans to hold the elections on December 24th.
In a press conference, he said that "our goal when it comes to Libya is a sovereign, stable, unified, and secure Libya with no foreign interference and a democratically elected government that supports human rights and development and that is capable of combating terrorism within our borders."
Price added that, "so that's why we have increased our diplomatic focus on supporting that progress in Libya, including through the work of our Special Envoy, Richard Norland."
He went on saying, "now, we know that elections – free and fair elections – are a core part of that. There is an urgent need for Libyan leaders to come up with creative compromises on an electoral framework."
The US Department of State Spokesman stated that, "as we underscored in Berlin in the conference that Foreign Minister Maas convened in June and the United Nations Security Council (UNSC) session on Libya the following month in July, the international community expects national elections to take place in the roadmap adopted by the Libyan Political Dialogue Forum (LPDF), and we welcomed that in UNSC Resolution 2570 in April."
Price continued with, "the conduct of free and fair elections, holding of free and fair elections, is extraordinarily important to us. It is something that we will continue to work with our partners in the international community to continue to support as we work to help the Libyan people achieve their broader aspirations."
On Wednesday, the US Ambassador to Libya, Richard Norland, said that Libya's 5+5 Joint Military Commission (JMC) meetings in Geneva are an opportunity to reach a compromise between the rival parties.
"On behalf of the US, I wish to express our hope that the JMC continues to build on the progress it has already made. The meetings in Geneva are another chance to find common ground on military, security, and fiscal issues that still divide Libya," Norland said.
The JMC talks in Geneva, under the auspices of the United Nations Support Mission in Libya (UNSMIL), are set to discuss the development of a comprehensive action plan for the withdrawal of all mercenaries, foreign fighters, and foreign forces from Libya.