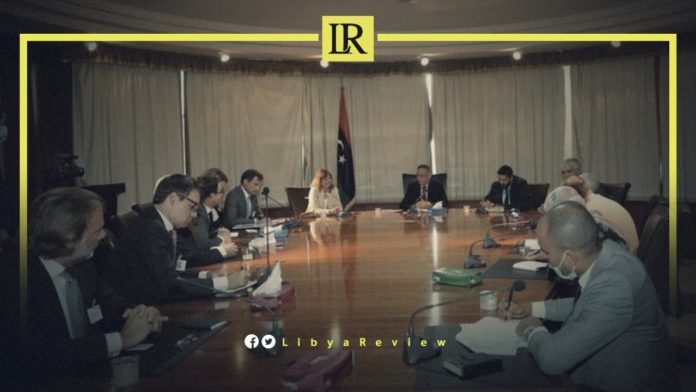 On Tuesday, the Libyan Minister of Economy and Trade, Mohamed Al-Hwaij met with the France Ambassador, Beatrice de Helene and her accompanying economic delegation, including a number of representatives of French companies.
The two parties discussed ways to enhance bilateral cooperation, as well as enhancing trade exchange.They also agreed to organise joint forums and exhibitions to strengthen communication and exchange experiences between the two sides.
Al-Hwaij praised France's efforts to achieve stability in Libya, and its support for the ongoing political, security, and economic tracks. He stressed that the Libyan government seeks to enhance cooperation in the fields of investment, trade, renewable energy, reconstruction, and infrastructure development across the country.
Ambassador de Helene affirmed that France is seeking to further develop relations with Libya, and establish a long-term partnership in the areas targeted by the Libyan government's plan. She also expressed the desire of French companies to invest in the Libyan market and to contribute to the development of the energy, healthcare, and education sectors.
Notably, the delegation from the Mouvement des Entreprises de France (MEDEF) arrived in Libya on Sunday, in its first visit since 2012. According to the French magazine, Jeune Afrique, the visit aims to reaffirm French interest in the country, before the international conference on Libya led by President Emmanuel Macron.
In September, the France Ambassador to Libya, Béatrice Du Helen said that a French committee will visit Libyan airports to review the resumption of air traffic between the two countries.
During her meeting with the Undersecretary of the Libyan Ministry of Economy, Suhail Abu Shiha, Du Helen affirmed the French government's readiness to provide support to Libya at all levels.