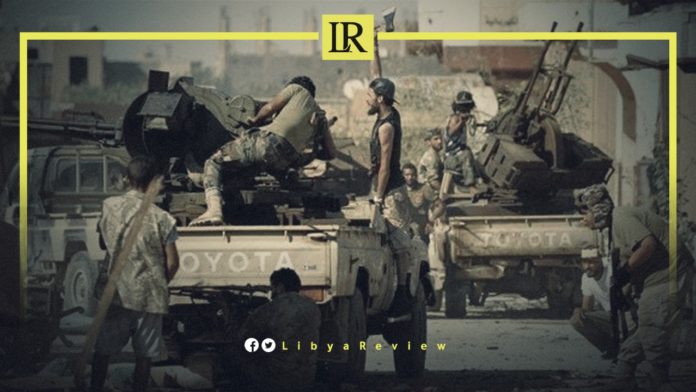 Well-informed sources said that Dr. Mohamed Al-Hariri, a health official at Tajoura Heart Hospital and the Director of the isolation center in Zilten, was kidnapped by unknown armed men.
They added that the health official was attacked on Wednesday, after he had left his home, and was taken to an unknown location.
The family of the doctor found reportedly found his and his mobile phone, proving this was not a robbery operation.
On Wednesday, an armed group reportedly kidnapped Major General Rashid Al-Rajbani, Head of Libya's Internal Security Agency, from inside Tripoli's Mitiga Airport, according to social media reports.
A source confirmed that this move comes after Al-Rajbani was forced to resign, and Lotfi Al-Hariri was appointed as his successor. Al-Rajbani was appointed as head of the Internal Security Agency on the orders of the previous Prime Minister, Fayez Al-Sarraj.
Notably, the United Nations Support Mission in Libya (UNSMIL) has documented a number of cases of illegal arrests and detention, enforced disappearances, torture, and extrajudicial killings of civilians, officials, journalists, civil society members and human rights activists in Tripoli during the past year.
"Under international human rights law, no one may be arbitrarily arrested or detained. Torture, enforced disappearances, and extrajudicial killings are strictly prohibited as are abductions and kidnappings," said Jan Kubis, Head of UNSMIL.
"The Mission calls on the Libyan authorities to fully investigate all alleged violations of international human rights law and international humanitarian law. Libya must end the entrenched culture of impunity in the country", stressed Kubis.
Libya has sought to emerge from a decade of chaos since the 2011 fall of Muammar Gaddafi's regime.
A transitional government was formed earlier this year under the auspices of the UN. It has been tasked with leading the country to elections scheduled for 24 December 2021.
Despite political progress in recent months, the security situation in the oil-rich country remains precarious.