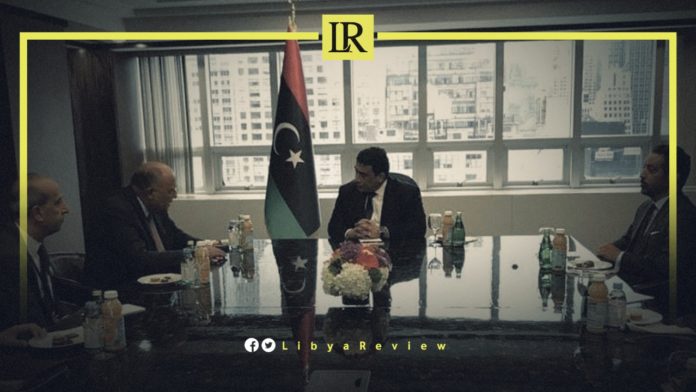 On Monday, Head of the Libyan Presidential Council, Mohamed Al-Mnifi met with Egyptian Foreign Minister, Sameh Shoukry on the sidelines of the United Nation's 76th General Assembly in New York City.
During their meeting, they discussed the latest developments in the Libyan crisis, and the push for a comprehensive political settlement. As well as building on the current momentum between Libya and Egypt.
Al-Mnifi is expected to meet with the Secretary-General of the Arab League, Ahmed Aboul Ghaith to review the ongoing preparations for holding the December elections in Libya.
Last week, the embassies of France, Germany, Italy, the United Kingdom, and the US in Libya, issued a joint statement urging all actors to ensure inclusive, free, and fair parliamentary and presidential elections on the 24th of December 2021, as scheduled. The embassies said that these elections are an essential step in further stabilising and uniting Libya, and their results should be respected by all parties.
Previously, the Head of the Libyan Presidential Council, Mohamed Al-Mnifi, stressed the "depth of the strong relations and the historical ties that bind the people of Libya and Egypt," during a telephone call on Tuesday.
Egypt has been pushing for a political settlement in Libya for years, calling for a ceasefire, a complete disarmament of militias, an end to foreign intervention in the country, as well as a fair distribution of wealth between various regions in the country.
Furthermore, Egyptian Minister of Electricity, Mohamed Shaker said that Cairo is seeking to launch electricity projects with Libya, and expand the already existing stations as "a basic and strategic goal for the two countries."
Shaker stressed Egypt's goal to provide Libya with the electricity it needs to contribute to its reconstruction. He indicated that Egypt has succeeded in providing Libya with electricity through existing projects, and is "working today to strengthen the interconnection lines with Libya, with Jordan, and Sudan as well."