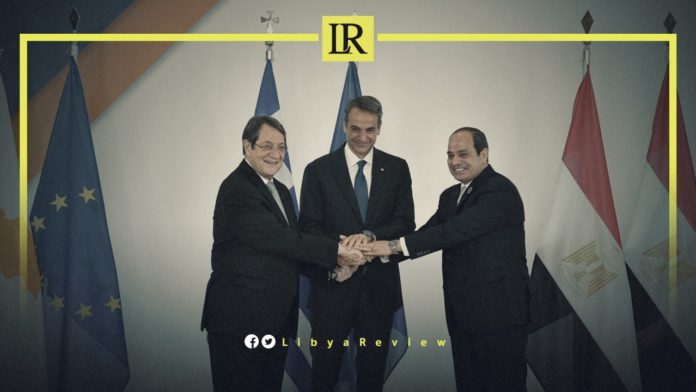 On Tuesday, Egyptian President Abdel-Fatah El-Sisi attended a tripartite summit with Greek Prime Minister, Kyriakos Mitsotakis and Cyprus President, Nicos Anastasiades in Athens.
In a joint press conference, President El-Sisi stated that today's meeting was a good opportunity to discuss regional and international developments, especially in the eastern Mediterranean region.
He stressed that the three countries agreed to move forward in the political process in Libya, in order to hold the Presidential and Parliamentary elections in December. He also emphasised the importance of the departure of all foreign forces from the country.
Notably, Cyprus President Anastasiades stated that he held the same vision on Libya to his Egyptian counterpart. He highlighted the need for elections to be held, and for foreign forces to withdraw. He further praised Egypt's role in ensuring stability in the region, and its mediation role between Israel and Palestine.
President El-Sisi touched upon the necessity of resolving the Palestinian-Israeli conflict, on the basis of the "two-state solution". He continued by saying that the three leaders also agreed on the need to confront terrorist organizations in Syria.
Libya has been wracked by chaos since a NATO-backed uprising toppled longtime ruler Muammar Gaddafi in 2011. A 2019 assault on Tripoli by Field Marshal Khalifa Haftar, Commander of the Libyan National Army (LNA) resulted in the introduction of mercenaries into Libya's civil war.
Last month, UN Special Envoy to Libya, Jan Kubis said that starting the withdrawal of foreign fighters from the country would be a major step for Libya. The UN estimates that there were at least 20,000 foreign forces and mercenaries in Libya, including Syrians, Sudanese, and Chadian nationals.
The October ceasefire agreement between rival eastern and western governments, after United Nations hosted talks, led to a transitional government taking office in March. This is set to usher the country towards elections at the end of this year.