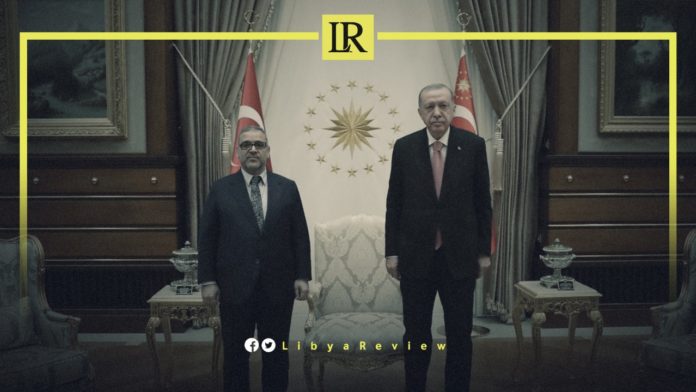 On Wednesday, Turkish President, Recep Tayyip Erdogan held talks in Ankara with the Head of Libya's High Council of State (HCS), Khaled Al-Mishri. Yesterday, Al-Mishri announced his opposition to the holding of the December elections, and urged people to boycott.
During the meeting, Erdogan and Al-Mishri highlighted the close relationship between the two countries and Turkey's keenness "to secure lasting peace and prosperity in Libya," President Erdogan said
The meeting comes a month ahead of upcoming Presidential and Parliamentary polls to be held on 24 December. The elections are seen as a step toward normalcy after nearly a decade of war affecting the country.
Libya's first-ever direct upcoming presidential vote is the culmination of the year-long peace process under the auspices of the United Nations.
Meanwhile, Al-Mishri called on Libyans to boycott the upcoming elections, urging them to stage a sit-in in front of the headquarters of the High National Electoral Committee (HNEC), the United Nations Support Mission in Libya (UNSMIL), and the Libyan Parliament to protest the "flawed" election law.
"Allowing criminals to run for office and engage in political work is equal to allowing Nazism and fascism to engage in political work," he noted.
During a meeting in Tripoli with MP's, HCS members, and mayors, Al-Mishri urged the Libyan people not to participate in the elections as voters or candidates. The participants in the meeting claimed that there were numerous legal and constitutional fallacies regarding the electoral process currently taking place in Libya. They also demanded that Presidential and Parliamentary elections be held based on laws and an "agreed-upon constitutional basis," in accordance with the Libyan Political Agreement (LPA).
Notably, Al-Mishri stated on Thursday that Field Marshal Khalifa Haftar "will never rule, even if it costs hundreds of thousands of bodies. If Haftar becomes president, the western region will pick up their weapons and fight Hafter," during an interview with Al-Jazeera.