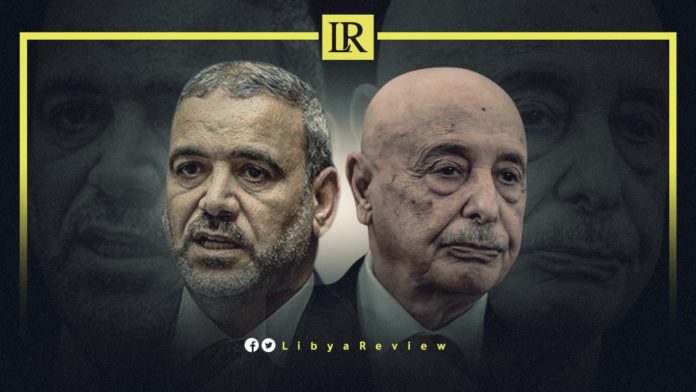 The German Ambassador to Libya, Michael Ohnmacht held a phone call with the Libyan Parliament Speaker, Ageela Saleh, and Head of the High Council of State (HCS) Khaled Al-Mishri.
In a tweet, the German Ambassador said that he had constructive phone calls with Saleh and Al-Mishri. "I expressed my concerns about the possible repercussions of the latest developments, and stressed the need for compromise by all parties. We have to focus on elections in December."
On Monday, the HCS called on the Libyan Parliament to postpone the presidential elections scheduled for 24 December, for at least a year.
Saleh announced his ratification of a presidential election law issued on 9 September. The HCS has rejected this move, claiming it would not recognize the law, "that was passed without a legal vote or consensus."
Al-Mishri said in a press statement that they have prepared a constitutional rule and proposed to include it in the constitutional declaration. As well as proposing to hold parliamentary elections first to establish a two-chamber parliament, senators and representatives.
"Then for a year, the draft constitution will be reviewed and approved, and the date of the presidential elections will be set, which we do not see as generating stability in Libya at the present time," he stated.
Al-Mishri claimed that the HCS possesses some competencies in partnership with the Parliament, "According to the political agreement, laws are ratified, after consensus between the two houses," he said. He added that the approval of the presidential election law was an attempt to "obstruct the elections."
Libya's High National Elections Commission (HNEC) announced that a total of 2,834,451 people have signed up to vote in the upcoming elections.
Libya, home to around 6.8 million people, has been working to hold general elections in December in a bid to end the country's decade-long conflict.
Recently, the Minister of Economy and Trade of the Libyan Government of National Unity (GNU), Mohamed Al-Hwaij met with the German Ambassador to Libya, Michael Ohnmacht to discuss economic and commercial cooperation, and the strengthening of bilateral relations.
Al-Hwaij urged the Ambassador to encourage German companies to re-enter the Libyan market, and participate in the implementation of investment and development projects. He also called for Germany to provide the necessary support to the healthcare, education, and energy sectors, as well as contribute to the development and qualification of Libyans in technology and informatics.
German Foreign Minister, Heiko Maas arrived in Libya recently to reopen the country's embassy in Tripoli.