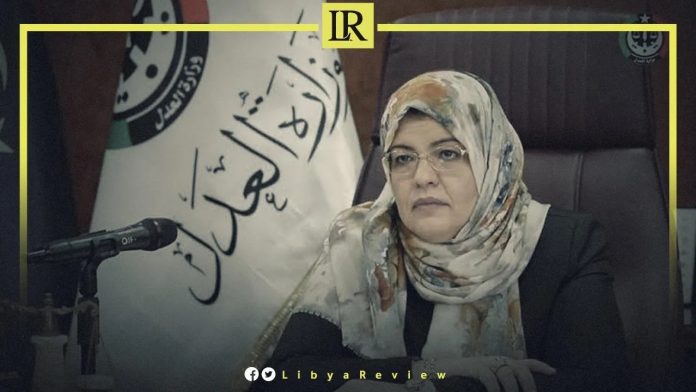 Libyan Minister of Justice, Halima Ibrahim confirmed that Libya is working to fulfil all its international obligations and commitments related to human rights. This comes as part of the activation and re-formation of the National Committee for International Humanitarian Law.
The minister participated in a meeting related to strengthening the protection of civilians and children during armed conflicts in Geneva, as part of an official delegation headed by the Deputy Head of the Presidential Council, Abdullah Al-Lafi. She revealed the activation of Law No. 11 of 2000 regarding ratification of the International Humanitarian Law treaty.
The minister added that a recommendation is being prepared to the Libyan Parliament to include a strict provision of the Penal Code, relating to the criminalization of child recruitment in armed conflicts or their involvement in them.
It is worth noting that she called for a partnership with the United Nations High Commissioner for Human Rights (UNHCR) during her visit to Switzerland.
Since 2011, escalating armed conflicts, civil unrest, and political instability in Libya have adversely affected an estimated 2.4 million people—approximately 40% of the population—and internally displaced more than 484,000 people.
Almost 47% of displaced persons have since returned to their homes, according to the National Commission for Human Rights in Libya (NCHRL).
Conflict and poor economic conditions continue to drive displacement and humanitarian needs, while Libya's public infrastructure has sustained substantial damage. The country's economy has all but collapsed, leading to shortages of basic goods.
Healthcare services, in particular, have been adversely affected, with a substantial proportion of facilities only partially operational or completely closed. Although local and international humanitarian stakeholders continue to implement emergency relief operations, humanitarian access is limited in many areas due to the conflict.
Given these conditions, hundreds of thousands of Libyan civilians do not have access to basic services, including life-saving healthcare, food, safe drinking water, and shelter.