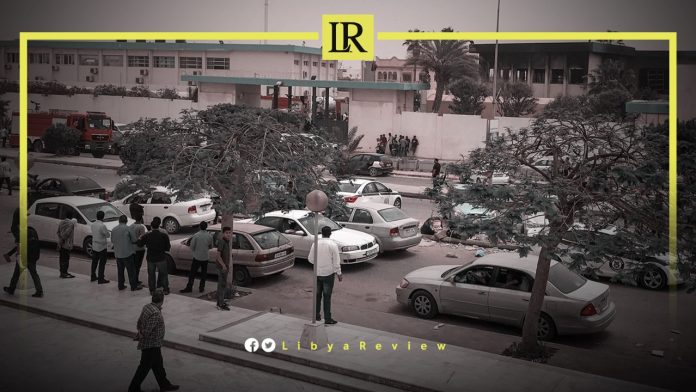 On Tuesday evening, a number of protesters held a sit-in in front of the National High Election Commission (HNEC) headquarters in Tripoli. They called for the postponement of the Presidential elections until a referendum on the constitution is held.
Video clips show parties affiliated with the "February 17 Revolution" from Tripoli, Al-Zawiya, and Misrata at the HNEC headquarters, setting up tents and raising slogans "No elections before a constitution."
This sit-in came hours before the commission announced the final list of candidates eligible to run for the Presidential elections scheduled for 24 December.
The European Union Ambassador to Libya, Jose Sabadell expressed his concern about the situation outside the HNEC headquarters. He called on the authorities to ensure security, protect lives, and facilities.
Two days ago, the "Revolutionaries and Brigades of the city of Misrata" announced their complete rejection of the elections. As well as their refusal to accept the candidacy of Saif Al-Islam Gaddafi, and Khalifa Haftar.
This rejection by armed militias of some candidates is one of the most important challenges that threaten the holding of the elections.
These protests shed light on the difficulty of completing the electoral process in Libya, and holding the elections on time. The continuing differences between rival parties, and heightened security tensions on the ground risk the elections being postponed or cancelled.
Notably on Sunday, 72 MP's called for holding an urgent session "to save the ongoing electoral process from suspicions of fraud, foreign interference, bypassing of the law, and attempts to influence judicial decisions."
In a joint statement, the MP's said that they are "following the negative developments of the electoral process, the failure to implement the law and circumventing it by the judicial institution and the High National Election Commission (HNEC). As well as silence on suspicions of fraud and influence on the judiciary."
They also stressed the need for the Head of the HNEC, Emad Al-Din Al-Sayeh, and representatives of the security and judicial institutions supervising the electoral process to attend the session and be held accountable.
They warned HNEC against announcing the final list of Presidential candidates before the accountability session ends; "so that the Parliament can assess the situation and study ways to salvage the electoral process and ensure that it will be conducted on time and in an appropriate security and political environment in accordance with the issued legislation."
Moreover, they stressed that they would not "bow to suspicious external pressures," or to be "false witnesses to a party of fraud, vote-buying, and insulting the judicial institution," as they put it.
Meanwhile, they affirmed their support for holding "free, fair, and credible legal elections" and developing a new roadmap in accordance with the Constitutional Declaration and its eleven amendments.