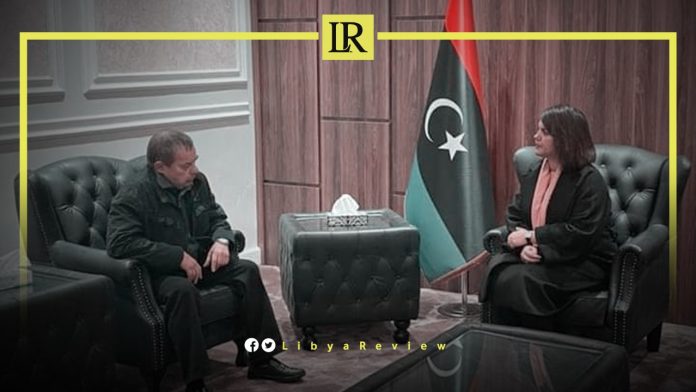 On Wednesday, Libya's Minister of Foreign Affairs, Najla Al-Mangoush met the Deputy Director of the Middle East Department of the Russian Foreign Ministry, Ivan Molotkov and his accompanying delegation.
During the meeting, they discussed the resumption of the Russian Embassy's work in Tripoli, as well as in its Consulate in Benghazi.
The withdrawal of mercenaries was also discussed during the meeting. Both sides expressed their support for the 5 + 5 Joint Military Commission (JMC) and its efforts to ensure these withdrawals. The meeting also confirmed support for the steps taken by the JMC, including their upcoming meeting that will be held in Moscow on Wednesday.
The Russian delegation expressed its full support for the Government of National Unity (GNU), and its efforts to achieve stability across Libya. As well as Moscow's desire to develop and strengthen cooperation in all fields, in a manner that serves the interests of the two countries.
Last month, Russian Foreign Minister, Sergey Lavrov held talks with the Chairman of the African Union Commission, Moussa Faki on the latest developments in Libya, Sudan, and the Sahel region.
In a joint press conference with Faki in Moscow, Lavrov said that Russia's relations with the African Union, "are developing in various fields." This is confirmed by the first summit between Russia and Africa in October 2019 in Sochi, according to the Russian news agency, TASS.
"We have been cooperating closely on a variety of issues since then, and most recently we participated in the Paris International Conference on Libya," he added.
The two sides discussed the "continuing and exacerbating terrorist threat from various extremist groups on the African continent. In addition to developing cooperation in the field of combating international terrorism, piracy, and other forms of cross-border crime and drug smuggling."