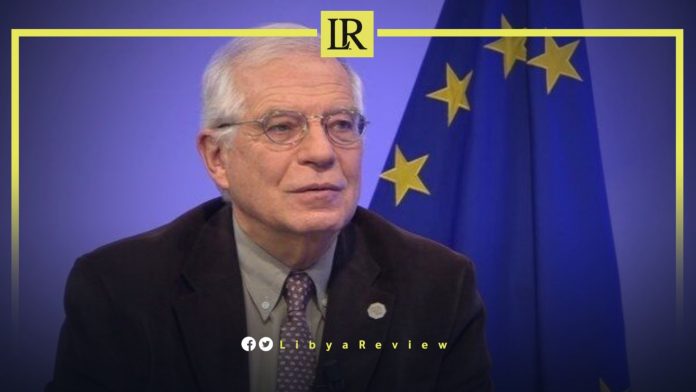 The High Representative of the Union for Foreign Affairs and Security Policy/Vice-President of the Commission for a Stronger Europe in the World, Josep Borrell, stressed that Europe's security and prosperity are intertwined with the security and prosperity of Libya and that he is confident that they can work to achieve this.
This came in a letter Borrell sent to Deputy Head of the Libyan Presidential Council, Musa Al-Koni.
He expressed his gratitude and appreciation to Al-Koni and his accompanying delegation, for the talks he held during his visit to Brussels from 22nd to 24th in November. During this visit, an important exchange of views occurred towards crystallising a strategy for joint action and a common roadmap for peace and security was conducted.
In his letter, Borrell stressed that they agreed upon various topics, including strengthening cooperation regarding the organisation of elections in Libya, the full implementation of the ceasefire agreement, the withdrawal of foreign fighters and strengthening border management. He also praised supporting regional cooperation between southern Libya and neighbouring countries.
The European Official also expressed appreciation for the role of the IRINI operation, as well as the European Union Border Assistance Mission in Libya (EUBAM), in the context of its broader program of border management), law enforcement and criminal justice. This forms part of the European Union's (EU's) support to the peace and stability process in Libya.
He welcomed Al-Koni to conduct a dialogue on peace and security issues. Borrell added that he is about to send a delegation to Tripoli to follow up the dialogue for its active role in stabilising the Mediterranean region, North Africa and the Sahel.
Earlier this month, Borrell called on Turkey to exit Libya as a way to resolve the crisis in the country. He did this in conjunction with the Libyan and international parties' attempts to work on the exit mechanism for thousands of mercenaries and foreign fighters.
According to the Russian Sputnik news agency, during the Mediterranean Dialogue Conference in Rome, Borrell said that "there is a lot of interference and external forces in Libya, such as Turkey, and they have to leave the country as part of solving the crisis in Libya.
He added that, "currently, we need to hold elections in Libya so that a legitimate government can exist. Without elections, the situation will be a big question mark. We have also sent technical missions and are ready to send a mission to monitor the upcoming elections."