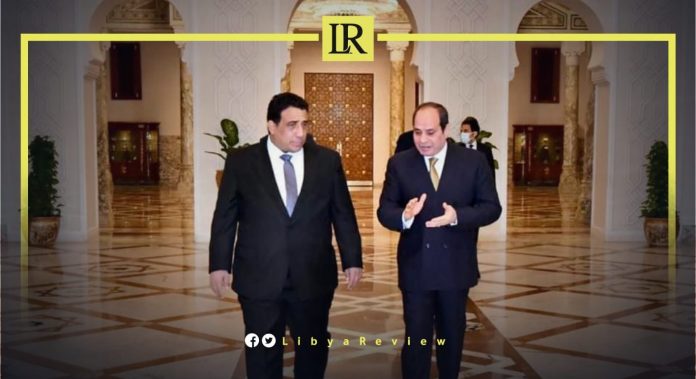 On Tuesday, Egypt's President, Abdel-Fatah El-Sisi received the Head of Libya's Presidential Council, Mohamed Al-Mnifi at Al-Ittihadiya Palace in Cairo.
During the meeting, President El-Sisi confirmed Egypt's "full support for the interest of Libya, activate the free will of its people, and preserve the unity and sovereignty of its lands."
The meeting was attended by Egyptian Foreign Minister, Sameh Shoukry, Head of Egypt's General Intelligence Service, Abbas Kamel, as well as Ambassador Abdel-Muttalib Idris, Libya's permanent representative to the Arab League.
Al-Mnifi praised the "vital" role played by Egypt in restoring security and stability in Libya. He also commended Egypt's efforts to unify Libyan institutions, especially the military through the efforts of the 5 + 5 Joint Military Commission (JMC), and part of the UN's military track.
The two leaders discussed the current political developments in Libya, and agreed to intensify consultations and coordination. They stressed that the transitional phase should pass in a way that helps restore Libya's stability, unify its institutions, and for the Libyan people to have complete control over their country's future.
Notably, the UN Security Council is deliberating holding an emergency session to discuss the latest developments in Libya. This comes amid increasing indications that the Presidential elections will not be held on 24 December as scheduled.
Sources in the Security Council told Sky News Arabia that the session will be attended by the outgoing UN Envoy to Libya, Jan Kubis and Special Adviser to the Secretary-General, Stephanie Williams who will provide a briefing on the latest developments.
It is expected that the upcoming session will address the reasons for the delay in issuing the final lists of candidates for the elections, and whether there is a party that caused this stumbling block. The date has not yet been set, pending final confirmation of the fate of the elections in Libya.