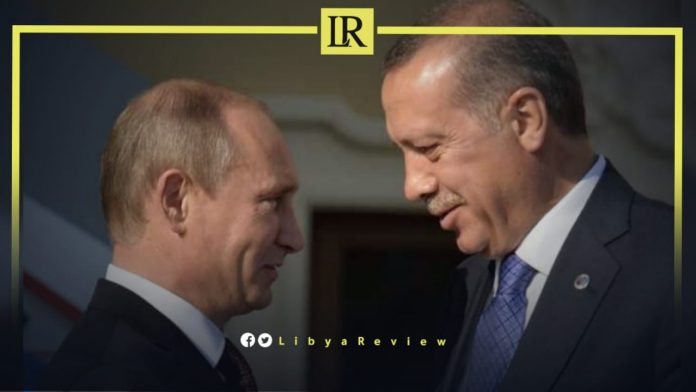 On Sunday, the Russian President, Vladimir Putin, and Turkish President, Recep Tayyip Erdoğan, held a telephone conversation to discuss ways to boost their partnership, and a number of regional files especially with regard to the situation in Libya.
In a statement, the Kremlin said that the two Presidents reviewed bilateral cooperation and reaffirmed their determination to continue boosting mutually beneficial partnership between Russia and Turkey.
According to the Kremlim, Putin and Erdoğan agreed on the importance of intensifying joint efforts and the coordination between Egypt and Russia to resolve the Libyan crisis and realize the ambitions of the Libyan people.
They also confirmed the mutual willingness to promote the peace process and restore Libya's unity.
"The parties also touched upon global issues, including the recent proposals on developing legally binding agreements that will guarantee Russia's security, the situation in the South Caucasus and efforts to resolve the Syrian and Libyan crises," the statement added.
The North African country was supposed to hold a presidential election on December 24th in a United Nations (UN)-led effort to lead Libya out of its years of conflict. The ballot was delayed to an unspecified date after bitter arguments over divisive candidates and a disputed legal framework. Recently the electoral authority announced January 24th as the new date for the vote.
The vote is aimed at initiating a unified government in the country, with hopes of lasting peace after years of conflict.
The elections are part of a roadmap adopted by the UN-sponsored Libyan Political Dialogue Forum (LPDF), in order to restore stability in Libya following years of political division and insecurity.
The vote, after a year of relative stability, was to have been Libya's first-ever direct presidential election. Months of disputes finally saw the vote postponed just two days before it was due to take place. The committee overseeing the election declared holding it "impossible" on the scheduled date.