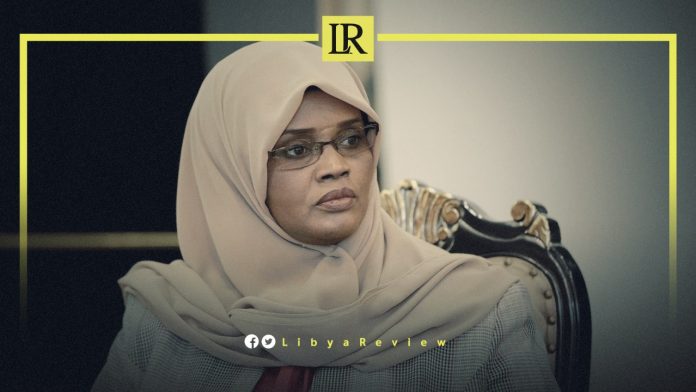 Well-informed sources said that the Libyan Minister of Culture, Mabrouka Touki, was released today after being held in pretrial detention for four days pending investigations into charges of financial corruption.
In a statement, the Libyan News Agency quoted the Minister's Advisor, Tariq Al-Jahawi, as confirming the circulated news regarding the release of Touki. Touki is accused of falsifying official documents in order to complicate the processes of review and oversight of public spending.
On Wednesday, Libya's Attorney General, Al-Siddiq Al-Sour, ordered the detainment of the Minister of Culture on allegations of corruption.
This comes a week after Libya's Education Minister, Moussa Al-Megarief, was also arrested, as part of an inquiry into a lack of schoolbooks.
Touki, an academic with a degree in nuclear physics was appointed in March, as part of the country's interim Government of National Unity (GNU). The prosecution service said it was investigating possible "negligence" in the case.
The North African country was supposed to hold a presidential election on December 24th, in a United Nations (UN)-led effort to bring Libya out of its years of conflict. The election was delayed to an unspecified date after bitter arguments over divisive candidates and a disputed legal framework.
The elections are part of a roadmap adopted by the UN-sponsored Libyan Political Dialogue Forum (LPDF), in order to restore stability in Libya following years of political division and insecurity.
The vote, after a year of relative stability, was to have been Libya's first-ever direct presidential election. Months of disputes finally saw the vote postponed just two days before it was due to take place, when the committee overseeing the election declared holding it "impossible" on the scheduled date.
The High National Election Commission (HNEC) has yet to announce a finalised list of candidates for the presidential poll. Its work was stagnated by court cases against the bids of several divisive figures.
A looming political vacuum is another threat, with some lawmakers arguing that the mandate of the interim government ended on the 24th of December.