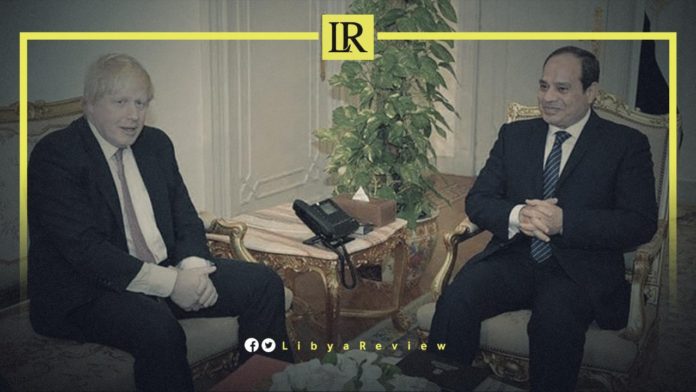 On Thursday, Egypt President, Abdel-Fatah El-Sisi affirmed in a phone call with British Prime Minister, Boris Johnson on the need to ensure the full withdrawal of all foreign forces and mercenaries from Libya.
The two sides agreed on the need to support the current political track, until the 24 December elections are held, as part of the roadmap agreed upon by the Libyan parties.
President El-Sisi stressed the "importance Egypt attaches to the restoration of stability in Libya and its return to the regional and international scene."
The president underlined Egypt's "unwavering stance regarding respecting Libyan sovereignty and preserving its territorial integrity."
"The Egyptian calls are in line with demands made by other international and regional powers in order to support the ceasefire that came into effect in October," he confirmed.
During their phone call, the two leaders discussed ways to strengthen bilateral relations, especially in the fields of security, defence, and counter-terrorism. They also discussed revitalizing British tourism to Egypt.
They also agreed on the need to strengthen joint coordination to ensure positive results from the international community, in light of the current global climate crisis.
In September, Egyptian President, Abdel-Fatah El-Sisi received the Prime Minister of Libya's Government of National Unity (GNU), Abdel-Hamid Dbaiba at the Al-Ittihadiya Palace in Cairo.
El-Sisi stressed the need for Libya to hold general elections on 24 December, as scheduled. He also confirmed Egypt's firm stance towards respecting Libyan sovereignty and preserving its territorial integrity, calling for the unification of the Libyan Army.
Libya is awaiting presidential and parliamentary elections in December and January respectively.
However, divisions between Libyan parties over when to hold the elections, which elections to hold, and on what constitutional grounds remain ongoing.