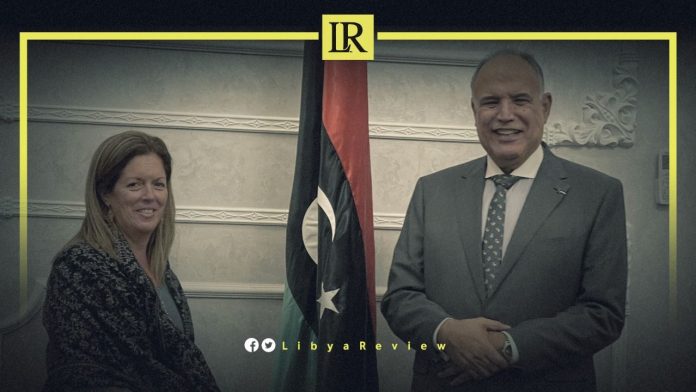 On Monday, Stephanie Williams, the Special Adviser to the UN Secretary-General in Libya (SASG), met with the National Security Adviser of the Interim Government of National Unity (GNU) Ibrahim Bushnaf. Williams stressed the "importance of maintaining the momentum of the electoral process."
The meeting dealt with the latest developments in the country. The two officials agreed to "push towards national reconciliation, and build consensus around a national vision for Libya's security," Williams tweeted.
Williams said that she would continue to urge all parties to "ensure the continuity of the electoral process." As well as to put the interests of the Libyan people above all considerations, advance a comprehensive national reconciliation process, and ensure stability.
Last month, Williams said in an interview with Asharq Al-Awsat that the election date and the candidacy of Saif Al-Islam Gaddafi were "internal Libyan matters taken by the judiciary." She called on all parties to adhere to the judicial rulings.
When asked whether Prime Minister, Abdel-Hamid Dbaiba was eligible to run, she said "all those who were running for executive authority positions during the Libyan Political Dialogue Forum (LPDF) process made written pledges not to run in these elections…everyone must respect Libyan sovereignty and the independence of the judiciary."
She said that setting the next election date "is up to the competent authorities in Libya, i.e. the Libyan Parliament, the Elections Commission (HNEC), and the judiciary."
"The UN is fully prepared to assist the Libyans to overcome all difficulties, and create appropriate conditions as soon as possible, in order to ensure the holding of free, fair, and credible elections," she affirmed.
The official also added that the process of removing all mercenaries and foreign forces from Libya was a delicate and complex process. "It must be carried out carefully in order to ensure that neighbouring countries are not destabilized, and this requires time and careful coordination with the countries concerned," she explained.
Williams said that the Minister of Interior assured her that they had drawn up tight security plans to secure the elections.