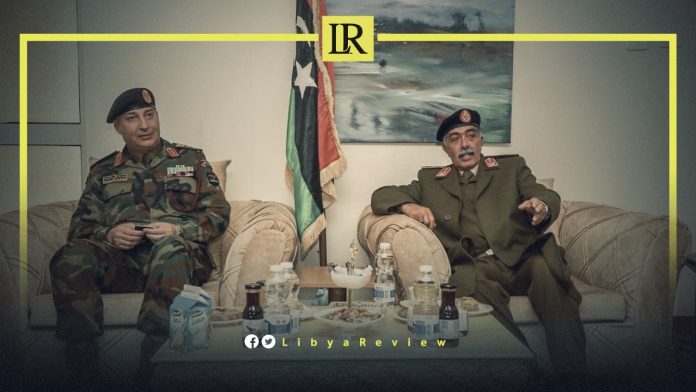 The Chief of Staff of the Government of National Unity (GNU) Major General Mohamed Al-Haddad met with the designated Commander in Chief of the eastern-based Libyan National Army (LNA), Lieutenant-General Abdulrazek Al-Nathouri.
The two senior military officials met at the Mahari Hotel in Sirte on Saturday, as they discussed the unification of the military institution. It is the second meeting between both parties in less than one month.
Member of Libya's 5+5 Joint Military Commission (JMC), Lieutenant-General Khairi Al-Tamimi, said the meeting is a continuation of a previous meeting within the framework of a program to unify the military institution and build confidence between the two parties.
Al-Tamimi added, in statements to Al-Arabiya TV, that "this step goes in the right direction," noting that military figures from both sides attended the meeting.
The Libyan newspaper, Al-Mustaqbal, quoted sources as saying that the meeting discussed the current arrangements for the deportation of a group of foreign fighters.
The sources added, that there are lists prepared which include names of the second group of foreign fighters scheduled to leave the country, likely to be from western Libya.
Last week, a member of Libya's 5+5 JMC, Emarji al-Amami, said that the LNA deported 300 Sudanese fighters last week by air to their country. Al-Amami told Fawasel Media that the deportation of the fighters came in accordance with the "goodwill initiative of the Libyan army, and that they are waiting for a similar action from the other side in western Libya."
On Friday, a Turkish security delegation visited Tripoli and Misrata and informed officials of the transfer of a new group of Syrian mercenaries outside the country early next week, according to Al-Arabiya news.
The Turkish delegation visited the headquarters of Libya's 5+5 JMC in Tripoli, and held a tripartite meeting with an "Italian security delegation in order to coordinate security and logistical efforts."
Al-Arabiya mentioned that the Turkish delegation also met with the presidential candidate, Fathi Bashagha in Misurata. It noted that Turkey wants to appoint another Envoy with "wider powers" than its Ambassador in Libya.