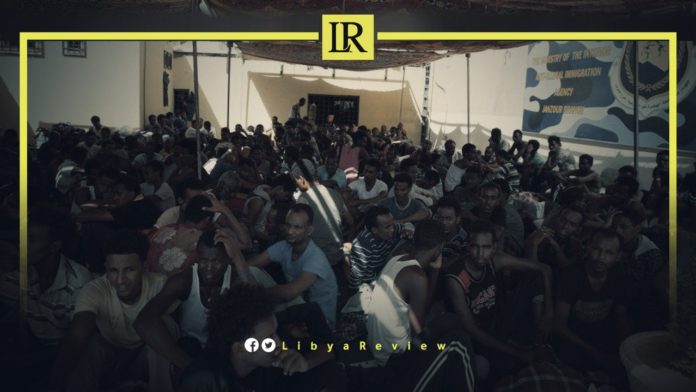 The violence against migrants in Tripoli who were rounded-up this week has been confirmed by a team from Doctors Without Borders (MSF), who managed to enter the Ain Zara prison camp in Libya. They reported that people had been beaten and children separated from their parents due to the arrests.
Simultaneously, the Italian authorities ordered the 'detention' of the humanitarian ship SOS Mediterranee and the Ocean Viking.
"More than 600 people, who were protesting peacefully for protection and to ask to be evacuated from Libya, were arrested and transferred to the Ain Zara detention center in the south of Tripoli. Hundreds of migrants and refugees are already being held in this facility in overcrowded cells," said Gabriele Ganci, Head of mission of MSF in Libya.
"During the weekly visit to the center, where we offer medical care and psychological support, the MSF team treated people with stab wounds, beatings and people traumatised by forced arrests." Among them also parents "who were beaten and separated from their children during the event," Ganci added.
In total, doctors treated 68 people injured during the mass arrest, seven of whom had to be transferred to hospital, while 190 were offered psychological support.
Dozens of men in black uniforms raided the migrant camp, dragging them out by force. "What happened shows, once again, how in Libya all migrants are subjected to random and arbitrary detention, even those who ask for protection and treatment in line with humanitarian law", says Ellen van der Velden, Director of operations of MSF .
"Once again, we ask the Libyan authorities to stop the mass arrests and find dignified alternatives to detention. We also ask the EU to stop all support for the endless system of detention, abuse, and violence in Libya," Ellen stated. Over the past two months, MSF teams have been allowed to travel to the detention center once a week in mobile clinics.
Meanwhile, in Italy, after more than 11 hours of inspection, a new administrative stop has been ordered for the Ocean Viking, and the SOS Méditerranée ships engaged in search and rescue operations in the Mediterranean. A medical team from the International Federation of the Red Cross is reportedly on board.
The ship, the NGO itself announced, was blocked in the port of Trapani, due to containers used as shelter for migrants, had their registration flagged.
"The certification of these structures as 'cargo' is questioned, two and a half years after these structures were installed in a professional construction site and certified by all relevant regulatory bodies. 5,108 people were rescued from the sea since the beginning of the operations of this ship, and as many have found shelter and safety within these structures," it said.
"Another detention, again from Ocean Viking. I understand that the inspection was, as usual, long and meticulous. It would go back to elements already evaluated in previous visits, and considered irrelevant at the time," said Admiral Vittorio Alessandro, coordinator of the Committee for the Right to Rescue.
The Admiral who had been in charge of communications for the Coast Guard said: "I specify that the calculation of the ship's tonnage, if, as in this case, does not cross over into stability problems, has no safety value, but only commercial (tonnage, volumes available for loading). That kind of equipment disputed by the inspectors is installed not only on Ocean Viking, but on many ships. The containers are fixed on the deck for technical reasons. On Ocean Viking the needs are to give protection to the people rescued: evidently this to the inspectors appeared unacceptable and, still according to innovative interpretations of international conventions, will perhaps be a reason for new detentions of NGO ships."