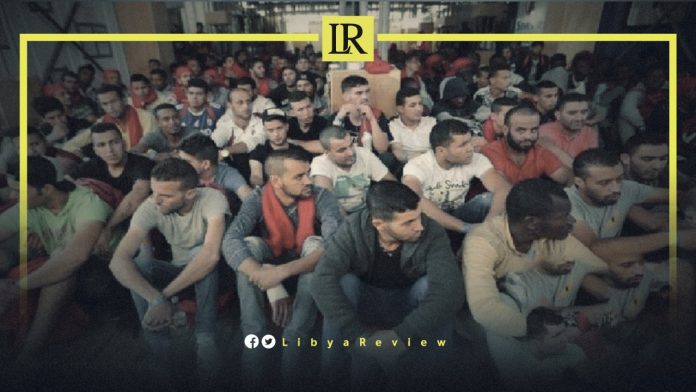 On Saturday, the Libyan Crimes Watch (LCW) uncovered that three Moroccan migrants were killed in a detention centre for migrants in the Al-Maya coastal town, West of Tripoli.
In a statement, the organisation clarified that the three migrants, namely Abdulaziz Al-Harshi, Hamza Ghadada, and Mohammed Attah, were held in the detention centre supervised by the Stability Support Apparatus led by Abdul Ghani Al-Kikli, also known as "Ghneiwa".
The LCW stated that one of the three migrants was subjected to torture leading up to his death after the deterioration of his health conditions. It added that the three bodies were transferred to the mortuary at Al-Zahraa General Hospital.
The organisation held the Libyan Presidential Council fully accountable for such repeated and horrific violations against migrants committed by the Stability Support Apparatus. It called for bringing all perpetrators to justice.
It also called on the Libyan Public Prosecutor to open an immediate and transparent investigation into this incident, and take urgent measures to protect migrants in detention centres.
Notably, Libyan security forces carried out a brutal operation last week, arresting hundreds of hundreds of migrants, asylum seekers and refugees who had been camped out in front of a United Nations (UN) refugee centre in the Libyan capital Tripoli since October 2021.
The United Nations High Commissioner for Refugees (UNHCR), considered a "one-stop-shop" for refugees and asylum seekers in Libya, was shut down just before the operation, which many migrants said left them without recourse.
Following a similarly brutal police crackdown in October 2021, thousands of migrants, refugees and asylum seekers – most from sub-Saharan African countries – had been sleeping rough outside the UNHCR Community Day Centre (CDC) in Tripoli. They had gathered in protest, demanding protection and evacuation to a third country.
The protest came to an end on January 10th, when the CDC was officially closed. This was a month after the UNHCR announced that it would be shut due to the growing crowd of people in front of the building's entrances, making it increasingly difficult to function and provide services. Migrants say that the move has left countless people stranded and without aid.