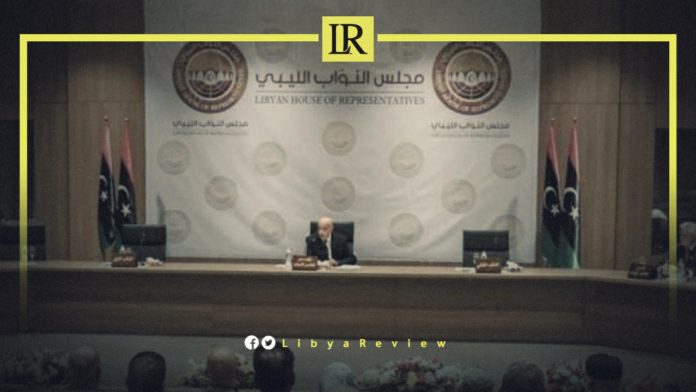 On Monday, the Speaker of Libya's Parliament, Ageela Saleh stated that MP's appointed to Libyan Embassies abroad, public companies, or those who have boycotted Parliamentary sessions would have their membership revoked.
Libya's Parliament Speaker added that a list of names will be prepared, and presented on Tuesday, according to his speech during Monday's session.
The Speaker also announced that candidates for the position of Prime Minister will submit their candidacies on Monday. A new PM to replace Abdel-Hamid Dbaiba will be selected on 8 February.
Last week, the Spokesman for Libya's Parliament, Abdullah Blaiheg stated that MP's have set 12 conditions to accept the candidacy for the next Prime Minister.
Blaiheg explained that Libya's Parliament's Presidency approved the conditions during today's session, which was attended by 120 MP's.
He confirmed that the conditions are as follows:
1) Must be a Muslim Libyan citizen born to Muslim Libyan parents.
2) Must not hold a foreign nationality
3) Must not be married to a non-Libyan woman.
4) Must not be less than 35 years old at the time of candidacy.
5) Must have a university degree or its equivalent from an accredited university.
6) Submit a certificate of good conduct and behaviour.
7) Must not have been convicted of a felony or misdemeanour involving moral turpitude or dishonesty.
8) Must be in good health to carry out his duties.
9) Submit a written pledge not to run for Libya's upcoming elections.
10) Submit his resignation before his candidacy according to the laws regulating the work of the candidate.
11) Obtain a recommendation of 25 members of Libya's Parliament.
12) Submit a financial disclosure statement.
Libya's newly established Roadmap Committee aims to advance the electoral process following the postponed December 2021 elections. As well as move the country along the path towards stability, UN and civil society briefers told the Security Council in January.
"Libya is at a delicate and fragile juncture, and it is critical that positive steps are nurtured," said Rosemary Di Carlo, Under-Secretary-General for Political and Peacebuilding Affairs. She added that, "humanitarian gains led to a shrinking number of people in need of assistance in 2021, and dialogue among stakeholders has advanced economic, security, and political goals over the past year."